Ten fun facts about Hyenas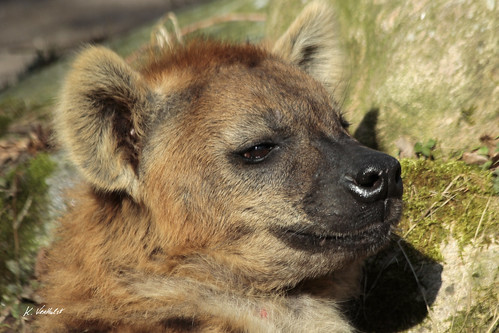 Fact 1
Hyenas make a sound resembling laughter when they are excited which gave rise to the expressing 'laughing hyena." The cackling sounds that they make are so loud they can be heard from a distance of 3 miles.

Fact 2
These animals thrive in forests, grasslands, savannas, woodlands and high latitudes. Their front legs are longer than the back legs and their standing posture is similar to that of bears.

Fact 3
Hyenas weigh from 45 kg to 85 kg. Female hyenas are 10% larger than their male counterparts.

Fact 4
They are carnivores and scavengers eating carrion. Hyenas hunt antelopes, buffaloes and zebras. They also hunt prey such as monkeys,' birds and wildebeests. They consume about 3-6 kg meat daily.
Fact 5
Hyenas live in groups called clans or packs which range from 5 – 8 members.
Fact 6
The females have to protect their young from males as hyenas have cannibalistic tendencies.
Fact 7
They have strong jaws compared to their body size. This enables them to process and obtain nutrients from skin and bones.
Fact 8
They can travel large distances as they are built for endurance. Hyenas can go several days without water.
Fact 9
Their life span is about 19 years. The gestation period is 90 -110 days. A female hyena gives birth to four cubs. The litter comprises of 2 – 4 young ones.
Fact 10
Females prefer to mate males from another clan rather than their own. Their testosterone levels are higher than their male counterparts.
More interesting reads about...
Click here for more animal facts ❯
RELATED FACTS
---
MORE IN ANIMALS
---