Ten fun facts about Jaguars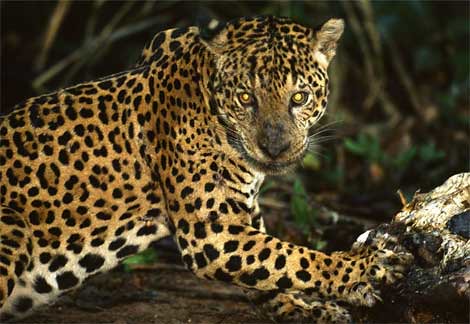 Fact 1
Jaguars mainly live in the Southern part of USA and Mexico. They live in seasonal swamps and rain forests, pampas grassland and deciduous forests as they require being near water.

Fact 2
They weigh around 200 to 250 lbs and are normally 6 to 8 ft long. These animals have the most powerful jaws among the wild cats. Their jaw is so strong that they can break the shell of a tortoise.

Fact 3
They are flesh eaters and prey on over 85 different animal species, including porcupines, lizards, armadillos, monkeys, cattle, deer and birds. They also eat avocadoes.

Fact 4
Unlike other cats, a jaguar does not roar. Instead it makes sounds similar to a deep cough. They are solitary animals and mark their territory by clawing trees or marking with their waste.
Fact 5
Jaguars are great swimmers and do not avoid water. They climb trees to prepare an ambush and kill prey. They can run 30 mph.
Fact 6
Jaguars are night hunters. They kill prey with a single strike
Fact 7
The life span of a jaguar is about15 to 20 years.
Fact 8
The female gives birth to one to four cubs. Cubs are blind when they are born. The mother protects them from hunters and their father.
Fact 9
Jaguars have tremendous strength and can carry carcasses weighing as much as eight hundred pounds.
Fact 10
Several ancient cultures such as the Mayans and Aztecs worshipped the jaguar as a god.
More interesting reads about...
Click here for more animal facts ❯
RELATED FACTS
---
MORE IN ANIMALS
---