Ten fun facts about Snow Lepoards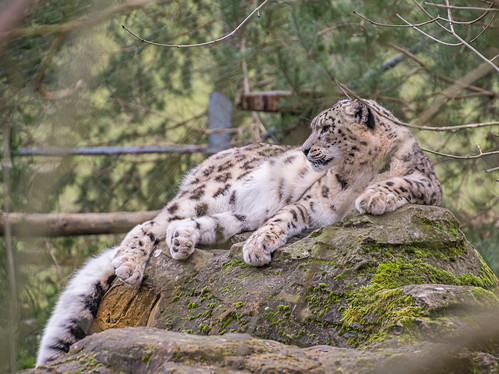 Fact 1
Snow leopards live in ridges, cliffs and rock outcrops. These locations provide camouflage for stalking and sneaking up on prey.

Fact 2
They have smoky-grey coats, patterned with black spots and rosettes. The fur on their bellies is about 5 inches thick.

Fact 3
Their tails are as long as their bodies and serves as a muffler to shield their nose and mouth.

Fact 4
Snow leopards have well-adapted wide paws for walking on snow and wading across thick snow cover.
Fact 5
These animals are very solitary and independent creatures. They live alone most of the time and only socialize during the mating season.
Fact 6
They feed on a variety of herbivores found in mountain range habitats. They prey on deer, gazelles, sheep, wild goats, snow cocks and rodents such as hare, rabbits and mice. They also prey on animals such as pikas, markhor, tahr, marmots and wild boars.
Fact 7
Snow leopards may hunt down an animal and drag their foot into snow tunnels. They feed off their flesh for several days
Fact 8
The gestation period of a snow leopard is about 3 – 31/2 months. Females give birth to a litter consisting of 1 – 5 cubs.
Fact 9
Snow leopards on an average live between 15 to 18 years of age but when in captivity they can live up to 21 years.
Fact 10
They use scent marking to track and find mates.
More interesting reads about...
Click here for more animal facts ❯
RELATED FACTS
---
MORE IN ANIMALS
---