Ten fun facts about Bisons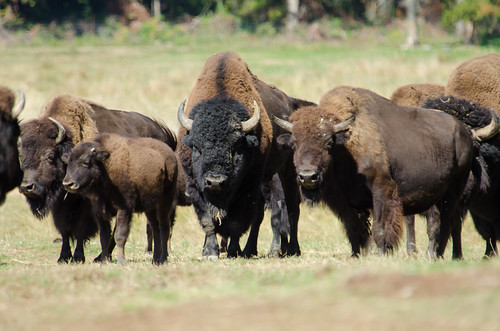 Fact 1
The American bison is also called buffalo but is not really a buffalo. These animals belong to the large hoofed animals of the bovidae cattle family.

Fact 2
These animals are found in the plains of the United States of America and Canada.

Fact 3
The male is generally larger in size as compared to the female. Both the male as well as the female bison have a large and rather distinctive hump on their back.

Fact 4
The collective name for a group of male and female bison is a herd.

Fact 5
A full grown bison weighs between 500 to 800 kg and can run at a speed of 35 mph. These animals can grow to a length of 10 feet.

Fact 6
Bisons usually feed on prairie grass and grasslands in the mornings and evenings and rest during the day. They require drinking water on a daily basis.

Fact 7
The mating season is from June to September. During this time, the dominant 'bull' maintains a small harem of females or 'cows' for mating.

Fact 8
In April or May of the following year, the female gives birth to a single calf. The male does not participate in the rearing of the calf.

Fact 9
The calves are born a lighter color and turn brown and develop the distinctive hump only after a few months.

Fact 10
If a bison's tail stands straight up, be warned that it is going to charge!



More interesting reads about...
Click here for more animal facts ❯
RELATED FACTS
---
MORE IN ANIMALS
---