Ten fun facts about Moose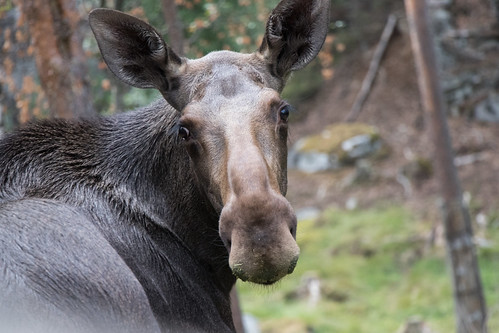 Fact 1
Moose are native to North America but can be found in Europe as well as Asia.

Fact 2
They have hairy skin called bell that hangs under the throat. They have a hump and their front legs are longer than their hind legs.

Fact 3
The sound made by Moose is called a bugle or a bark.

Fact 4
The largest species of the deer family, Moose can grow to a height of 0.8 meters to 1.5 meters. Moose weigh an average of 250 kg to 450 kg. Their lifespan is from 15 to 25 years.
Fact 5
Moose have elaborate antlers that can range between 1.1 meters to 1.4 meters. The male antler is 10% larger than that of the female.
Fact 6
They can run at a speed of 35 mph and swim at a speed of 6 mph. They can stay underwater for about 30 seconds.
Fact 7
Moose have weak eyesight though their senses of smell and hearing are strong.
Fact 8
The females are called cows and the babies are also referred to as calves. Males are called Bulls. The collective name for a group is a herd or gang.
Fact 9
Moose are usually solitary animals but gather in high densities for the breeding season. Only 25% of the groups will have more than two adults.
Fact 10
Herds are typically dominated by one female. The average size of a litter is one to two.
More interesting reads about...
Click here for more animal facts ❯
RELATED FACTS
---
MORE IN ANIMALS
---