Ten fun facts about Kangaroos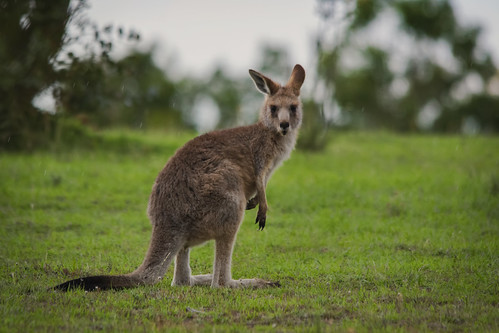 Fact 1
Kangaroos eat grass, shrubs and roots including bean related and beet related plants that are rich in mineral salts.

Fact 2
Males fight for females by employing both punches and kicks

Fact 3
Kangaroos have chambered stomachs to help with digestion. They have special teeth that help them regurgitate shrubs and grass and chew them again before swallowing. They can stay without water for 2 -3 months.

Fact 4
They grow to between 3 and 8 ft tall. They weigh from 40 to 200 pounds
Fact 5
Their hind legs and feet are much stronger and larger than their forelimbs. Kangaroos use their muscular long and thick tails to balance and turn when hopping or sitting.
Fact 6
Kangaroos alert others when they sense danger by thumping their feet on the ground, grunting, hissing, coughing and making clicking noises.
Fact 7
They use their strong legs to move very fast and can jump up to 3 times their height. They leap using both legs. Kangaroos cannot walk backwards but can swim.
Fact 8
The collective name for a group of kangaroos is court, troop or mob. The group consists of 8 to 25 kangaroos. The male leads the troop that consists of females and young kangaroos.
Fact 9
The baby kangaroos are called Joeys.
Fact 10
The red kangaroo is the largest marsupial in the world.
More interesting reads about...
Click here for more animal facts ❯
RELATED FACTS
---
MORE IN ANIMALS
---