Ten fun facts about Dingos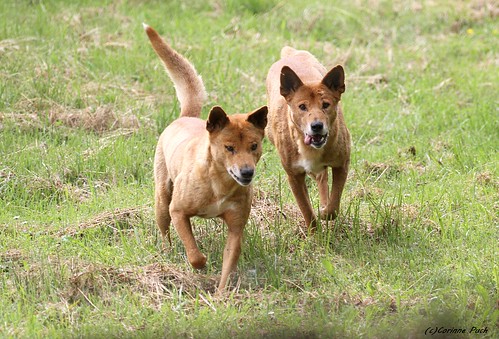 Fact 1
Dingoes live in grasslands, semi-arid land and edge of forests. They live near rocky gorges and take shelter in hollow logs and caves.

Fact 2
They are golden or reddish colored canids that roam great distances and communicate with howls.

Fact 3
Young dingoes can forage over 60 km area.

Fact 4
They can turn their heads almost 360 degrees to track other animals such as birds in flight.
Fact 5
Dingoes use their paws to turn door knobs as they have unique wrists that are capable of rotation.
Fact 6
They breed once a year and mate in autumn. The gestation period is two months. The litter size ranges between one to ten pups.
Fact 7
Dingoes hunt mainly at night and target and kill large animals such as a kangaroo in a pack. They bury remaining food and eat grubs, eggs and wildfowl when other prey is scarce. They also eat rodents, lizards, birds, plants and fruits.
Fact 8
Males weigh 25 – 43 pounds when fully grown they live up to 18 years.
Fact 9
Females eat their dropping for moisture to produce milk for their puppies. They can move their litter of six pups individually in one night over 9 km.
Fact 10
The dominant female dingo kills any pups born to other females in a dingo pack.
More interesting reads about...
Click here for more animal facts ❯
RELATED FACTS
---
MORE IN ANIMALS
---