Ten fun facts about Gharials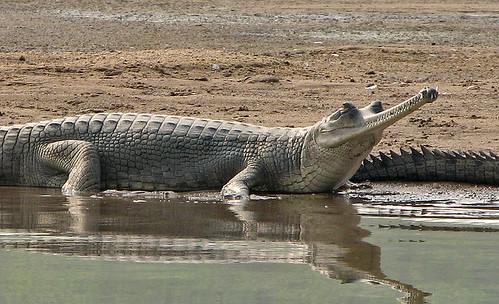 Fact 1
Gharials spend most of their time in water as their short legs make it difficult to spend long hours on land.

Fact 2
They are found in riverines where the water is fast moving, deep and clear and prefer deep still pools at sharp river bends.

Fact 3
These reptiles are more than six meters in length and their elongated snout is ideal for catching fish in water. It contains more than 50 sharp teeth.

Fact 4
They are solitary predators and carnivores. They eat small animals and insect, fish and aquatic frogs.
Fact 5
Gharials weigh from 59 to 181 kg. The length of their snouts can be as much as 3 ½ to 5 ½ times as long as it is broad at the base.
Fact 6
These animals can hear in low frequency or subsonic range.
Fact 7
Gharials enjoy basking in the sun to increase body temperatures and this aids them in their mobility as well as digestion. They rest with their jaws wide open.
Fact 8
They make hissing and buzzing sounds during courtship or to protect territories.
Fact 9
Females make their nests and lag eggs during the dry season. They lay between 30 to 50 eggs on the sand exposed on river banks. The eggs are buried by them in the sand.
Fact 10
Adult males become territorial during the breeding season but will tolerate small and sub adult males.
More interesting reads about...
Click here for more animal facts ❯
RELATED FACTS
---
MORE IN ANIMALS
---