Ten fun facts about Komodo Dragons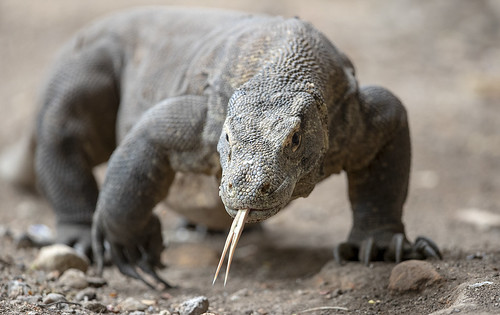 Fact 1
Komodo dragons live in the Indonesian islands of Komodo, Padar, Flores and some of the Lesser Sunda Islands which are part of the Malay Archipelago. They inhabit savannas, arid grasslands, monsoon forests and mostly in the lowlands.

Fact 2
They grow to 10 feet lengths and can weigh nearly 200 pounds.

Fact 3
The lifespan of Komodo dragons in the wild is 30 to 50 years and they swim and climb trees. They can run with a speed up to 12 mph or more when they hunt

Fact 4
They attack deer, pigs, dogs, goats and occasionally humans. They eat small mammals, fish, crabs, eggs, snails, birds and their young. Komodo dragons also eat any type of carrion.

Fact 5
Komodo dragons use their long forked tongue to smell, taste and sense chemicals in the air. They use their sharp claws and serrated shark-like teeth to eviscerate their prey. These lizards lie in wait for their prey and then lunge.

Fact 6
Their saliva contains 50 strains of bacteria which kills any creature that they attack with blood poisoning.

Fact 7
These lizards are voracious eaters. A komodo dragon can eat as much as 80% of its body weight during a single feed.

Fact 8
They mate between May and August. Females lay about 30 eggs at a time in September.

Fact 9
Komodo dragons are essentially solitary creatures, preferring to be by themselves except during the mating season.

Fact 10
They maintain burrows within their territorial ranges of about 1.2 miles.



More interesting reads about...
Click here for more animal facts ❯
RELATED FACTS
---
MORE IN ANIMALS
---
Short about Komodo Dragons
Are large, powerful, living lizards with long flat heads, round snouts, scaly skin, bowed legs and huge muscular tails.

Languages
Deutsch
Français
Español
English