Ten fun facts about Snails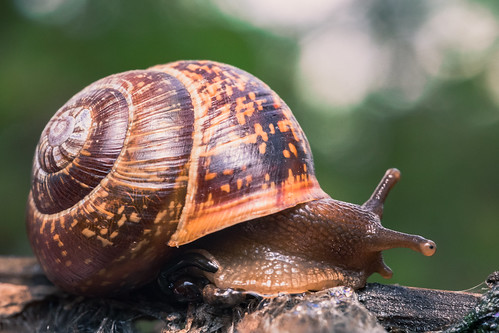 Fact 1
Snails move by gliding on a muscular structure on the bottom of the abdomen called the foot. Their bodies produce thick slime which helps them to crawl across the edge of a razor and not get hurt

Fact 2
Snails are hermaphrodites which mean that they have both male and female reproductive organs.

Fact 3
They live in tiny holes of mud or on leaves and travel large distances of land and water. The land, sea and freshwater snails live in parks, forests, gardens, dunes and bottoms of the sea.

Fact 4
Snails grow from 12 to 15 inches in length and 10 gm in width. They weigh up to 18 kg.
Fact 5
They live up to 15 years.
Fact 6
Their diet includes living and decaying plants and leftovers found on leaves and seaweeds. They eat fruits, algae, fungi lichens and young succulent plant barks.
Fact 7
Snails travel in irregular paths often traveling in a circle. They have poor eyesight and rely on their sense of touch and smell for finding food.
Fact 8
They can lift 10 times their body weight in a vertical position.
Fact 9
The gestation period is 2 to 4 weeks and they lay about 85 eggs. Few survive and hatch into new snails.
Fact 10
They are nocturnal creatures and hibernate during winter living on their stored fat. Snails grow spirals every year which looks like rings called whorls.
More interesting reads about...
Click here for more animal facts ❯
RELATED FACTS
---
MORE IN ANIMALS
---