Ten fun facts about Gorillas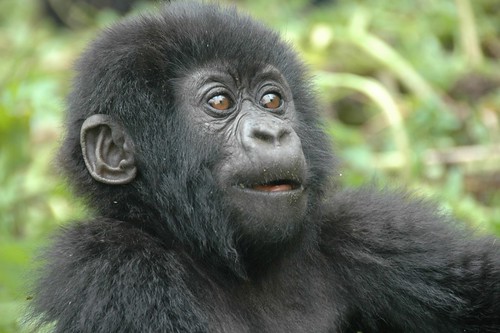 Fact 1
Gorillas walk by putting weight on their knuckles and arms which are longer than their legs. They also walk upright like humans.

Fact 2
A male gorilla weighs around 600 lbs and the female weights about 200-300 lbs. Their brains weigh only twenty ounces.

Fact 3
These primates live on fruits, vines, leaves, stems and bamboo. They do not eat meat but their diet does include insects, snails and slugs.

Fact 4
Gorillas live together in groups of 5 to 9. A group of gorillas is called a 'troop'.
Fact 5
Gorillas are colorblind but their other senses are very highly developed. They use gestures, body language and special vocal skills for communicating with each other.
Fact 6
They love to explore and prefer to be on the move daily in search of food. They do not sleep in the same nests and rest for several hours in the day.
Fact 7
These animals eat about 44 lbs of food per day.
Fact 8
Even though the offspring are capable of walking when they are 5 months old, a mother gorilla will carry her baby till he or she is about a year and a half.
Fact 9
The silverback heads the group as the leader. A silver streak of hair is predominantly noticed on their back.
Fact 10
The mortality rates are 40% in the first two years of their life. These animals are susceptible to illnesses easily and threatened by loss of habitat and poaching.
More interesting reads about...
Click here for more animal facts ❯
RELATED FACTS
---
MORE IN ANIMALS
---