Ten fun facts about Monkeys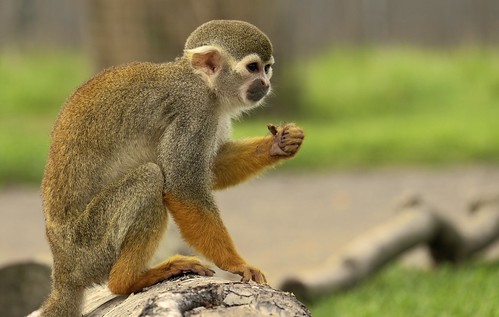 Fact 1
Monkeys are as small as 6 inches long and 4 ounces to 3 feet long and weigh up to 77 pounds.

Fact 2
They use facial expressions, body language and vocalizations to communicate. They are aggressive when provoked and display deadly rage with exceptional strength. They express affection and make peace with other by grooming each other.

Fact 3
They are social creatures and live in families or troops comprising of hundreds of monkeys. They have a hierarchy structure and travel together to find food. Monkeys display signs of aggression such as grinning, head bobbing, yawning and jerking the head and shoulders forward.

Fact 4
They eat animals, plants and dirt, fruits, insects, flowers and reptiles. They peel the bananas and throw the skins.

Fact 5
Their natural habitat includes mountains, grasslands, forest and high plains.

Fact 6
Monkeys breed at any time of the year.

Fact 7
The tip of their tail can support the entire weight of their body. Some have prehensile tails that can grab and hold objects. Some use their fingers and toes to grasp objects.

Fact 8
They walk on their knuckles to prevent the body weight from landing on their hands.

Fact 9
Monkeys are carriers of diseases such as hepatitis, simian herpes and tuberculosis.

Fact 10
Most of them are arboreal though some are also terrestrial.



More interesting reads about...
Click here for more animal facts ❯
RELATED FACTS
---
MORE IN ANIMALS
---