Ten fun facts about Leopards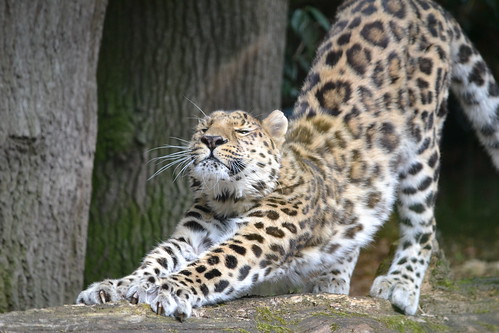 Fact 1
Leopards are strong cunning solitary creatures that generally hunt at night. They are the strongest of the big cats, stealthy and difficult to trace and locate in the wild.

Fact 2
They have a beautiful coat with rosettes and a tawny background that helps in camouflage.

Fact 3
A leopard can climb trees swiftly and efficiently and is not afraid to take on prey that is twice their body weight up a tree.

Fact 4
They eat small hoof stock such as gazelles, deer, wildebeest and impalas. They eat their food on branches of trees. Their normal diet consists of reptiles, fish, strong-scented carrion, birds, rodents, hares, hyraxes, warthogs, monkeys, baboons, antelopes and mammals.
Fact 5
These animals are territorial and regularly mark and defend their domain against intruders with urine or claw trees.
Fact 6
Man-eating leopards operate at night under the cover of darkness and enter human territories.
Fact 7
The gestation period is 90 to 105 days. Females give birth to one to six kittens. The kittens say with their mother for 18 to 24 months.
Fact 8
Leopards purr when they are content and growl and spit with a screaming roar of fury when provoked or get angry.
Fact 9
They weigh up to 140 lbs, are good swimmers and can leap more than 20 feet in the air.
Fact 10
A leopard can live up to an average of 21 years in captivity.
More interesting reads about...
Click here for more animal facts ❯
RELATED FACTS
---
MORE IN ANIMALS
---