Ten fun facts about Chimpanzees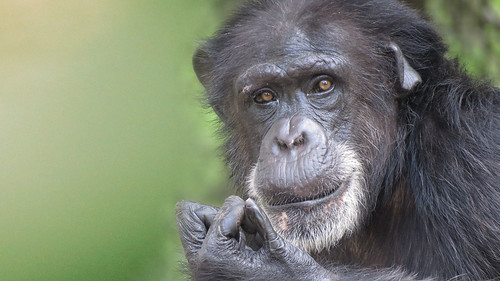 Fact 1
Chimpanzees get their name from the Bantu words Kivili-Chimpenze, which translates as 'creatures that look human'. They possess senses similar to humans including sight, hearing, taste, smell and touch.

Fact 2
They are very intelligent animals and use different tools such as rocks, twigs and sticks to communicate with each other as well as to crack foods that have hard outer skins or shells. They understand the human language and use calls and sounds, body language and facial expressions when communicating.

Fact 3
Chimpanzees are omnivores. They eat nuts, seeds, frits, leaves, blossoms as well as insects, eggs and meat of small animals.

Fact 4
They make nests in trees and change their location every night. The nests are made of soft leaves, branches and various materials that they can find.

Fact 5
A full grown chimpanzee is about 5.6 ft tall. The female chimpanzees weigh about 100 lbs while the males weigh about 150 lbs.

Fact 6
Chimpanzees are easily prone to diseases and infections.

Fact 7
They move around walking on all fours using their knuckles.

Fact 8
The females develop family bonds with their children for life and prefer to live together. Mothers give birth to one young one on an average of once every 5 – 6 years.

Fact 9
Unlike other primates, chimpanzees do not have tails and have large developed brains.

Fact 10
They live in communities of up to 100 – 150 members. The male leads the hierarchies that are formed by these communities.



More interesting reads about...
Click here for more animal facts ❯
RELATED FACTS
---
MORE IN ANIMALS
---