Ten fun facts about Goats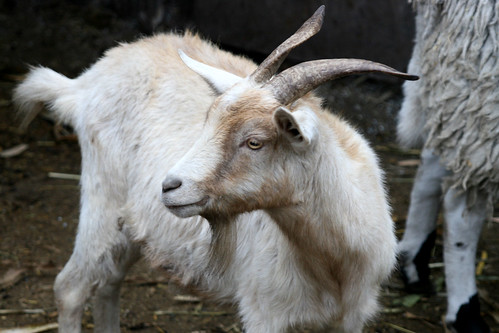 Fact 1
An adult goat could weigh about 170 lbs and grow to a height of 3ft and 2 inches. Their lifespan is from 15 to 18 years.

Fact 2
They live in grasslands and mountains. Goats are herbivores and eat mainly grass hay and ferns. They are browsers and not grazers and extremely picky about what they eat.

Fact 3
Goats have beards and straight horns. The pupils in their eyes are unusual in that they rectangular in shape instead of round.

Fact 4
They live in herds of about 5 – 20 members. The collective name for a group is Tribe, Trip or Herd.
Fact 5
Males are called Buck or Billy and females are called Nanny or Doe. Babies are called Kids or Billy.
Fact 6
Both male and female goats have beards or wattle which dangles from one side of their necks
Fact 7
They can breed at any time of the year under certain type of climates. The gestation period lasts about 150 days and result in 1 – 3 offspring
Fact 8
Goats are intelligent and curious animals. They are known to be very coordinated and can climb trees.
Fact 9
They are social animals and are not flock-orientated like sheep. They communicate with each other by bleating.
Fact 10
Goats have only bottom front and side teeth. The top jaw does have a large back molar for crushing things.
More interesting reads about...
Click here for more animal facts ❯
RELATED FACTS
---
MORE IN ANIMALS
---