Ten fun facts about Cleveland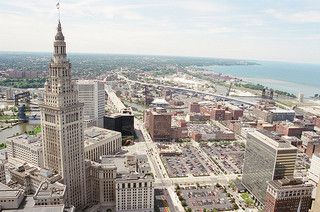 Fact 1
The Cuyahoga River, which runs through Cleveland, is known as "The River that Caught Fire." The river has caught fire on thirteen different occasions.

Fact 2
Cleveland was founded by General Moses Cleaveland. As the story goes, the name was reduced to "Cleveland" when the local newspaper discovered the name was one character too long for its masthead.

Fact 3
The Rock and Roll Hall of Fame was founded in Cleveland in 1983. To date, 701 people have been inducted.

Fact 4
Cleveland's Playhouse Square Center is the second largest performing arts venue in the United States.

Fact 5
Cleveland is a city that knows how to rock. "Hang On Sloopy" by the The McCoys is the city's official song.

Fact 6
Jesse Owens, who won four gold medals in the 1936 Berlin Olympics, was from Cleveland.

Fact 7
A suburban home in Cleveland was the setting for the beloved film "A Christmas Story." It has since been purchased on eBay, renovated to an exact replica of the house in the film.

Fact 8
Cleveland is home to the world's largest indoor Ferris wheel, built in 1985. It stands more than 120 feet high.

Fact 9
Joe Schuster and Jerry Siegel created the famous comic hero Superman in Cleveland, where they were born.

Fact 10
The world's largest rubber stamp, created for the Standard Oil Company, has a home in Cleveland's Willard Park.



More interesting reads about...
Click here for more u.s. city facts ❯
RELATED FACTS
---
MORE IN U.S. CITIES
---