Ten fun facts about Toledo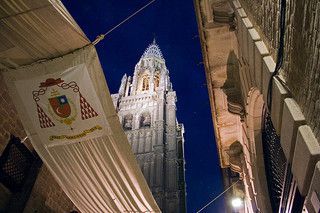 Fact 1
It has since become a city well known for its industry, particularly in glass and auto assembly, as well as for its art community, education, healthcare, and local sports teams.

Fact 2
Toledo experiences a humid continental climate, characterized by four distinct seasons.

Fact 3
It is also known for its nicknames "The Glass City", "Frogtown" and "T-Town".

Fact 4
The Toledo Museum of Art is an internationally acclaimed museum located in a Greek Revival building.

Fact 5
Toledo has produced a number of famous artists, including actors Jamie Farr, Katie Holmes and Danny Thomas, musicians Tom Scholz, Lyfe Jennings and Scott Shriner, jazz pianist Art Tatum, and painters Israel Abramofsky and James E. Brewton.

Fact 6
Toledo is the hometown of Corporal Maxwell Klinger in the long-running 1970s television series M*A*S*H.

Fact 7
The Kenny Rogers 1977 hit song "Lucille" was written by Hal Bynum and inspired by his trip to Toledo in 1975.

Fact 8
Toledo is mentioned in the song "Our Song" by Yes from their 1983 album 90125.

Fact 9
Famous writers and journalists from the city include P. J. O'Rourke, Mari Evans, Mildred D. Taylor, Tim Coleman, Rock Vocalist and Gloria Steinem.

Fact 10
Famous athletes include Baseball Hall of Fame members Roger Bresnahan and Addie Joss, jockey Mary Bacon, Olympic swimming champion Chet Jastremski, 2012 Olympic silver medalist Erik Kynard (Track & Field, high jump), professional basketball player John Amaechi, and retired NBA player Jim Jackson.



More interesting reads about...
Click here for more u.s. city facts ❯
RELATED FACTS
---
MORE IN U.S. CITIES
---