Ten fun facts about Llamas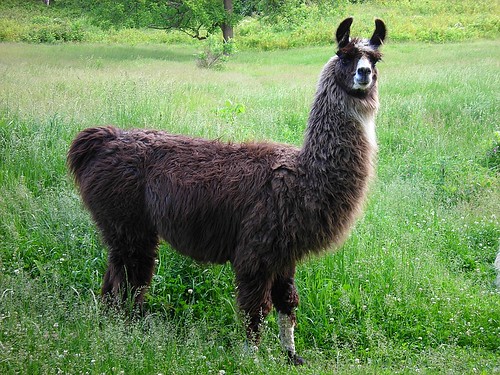 Fact 1
Llamas can live for about 20–30 years with good care.

Fact 2
They are very social animals and live with other llamas as a herd.

Fact 3
The wool produced by a llama is very soft and lanolin-free.

Fact 4
Llamas are intelligent and can learn simple tasks after a few repetitions.
Fact 5
Llamas appear to have originated from the central plains of North America about 40 million years ago. They migrated to South America about three million years ago.
Fact 6
Llamas almost always have single births, and the gestation period for a llama is 11 1/2 months.
Fact 7
They are very quiet animals. They communicate primarily with body language, and soft humming sounds.
Fact 8
Llamas are often used as guard animals to protect sheep and goats from coyotes.
Fact 9
The soft padded foot of the llama makes them environmentally friendly and excellent companions for packing and day hikes.
Fact 10
All camelids do "spit" as a means of defense, and to show dominance within the herd. This trait is often exploited in popular culture, and causes many people to be fearful of approaching llamas in a public setting. Although many llamas in pastures or petting zoos have not been socialized to properly behave themselves among humans, most of the llamas that are shown in parades and at local fairs have been extensively trained by their handlers to not spit at people.
More interesting reads about...
Click here for more animal facts ❯
RELATED FACTS
---
MORE IN ANIMALS
---