Ten fun facts about Hippopotamuses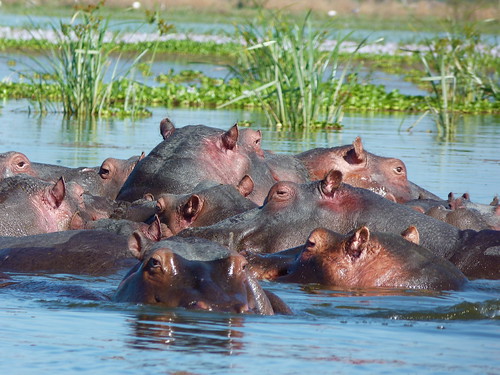 Fact 1
A fully grown hippopotamus can weigh between 1½ to 31/2 tons. They grow to about 13 feet long and 5 feet high.

Fact 2
Hippos have no sweat glands and keep cool by submerging their bodies in lakes and rivers. They secrete a red fluid that helps to avoid sunburn.

Fact 3
They are good swimmers and can hold their breath for nearly 5 minutes underwater.

Fact 4
The eyes and nostrils of hippopotamuses are placed high on their heads to enable them to breathe and see when most of their body is submerged. The ears and nostrils close automatically when the animals are under water.
Fact 5
The hippo is a very aggressive creature and considered quite dangerous. They use their long canine tusks that grow to a foot long, to fight when challenged. They yawn when they are going to attack.
Fact 6
They emerge from the water at dusk to feed on grass and fallen fruit. They also eat corn and sugar cane.
Fact 7
Feeding is a solitary activity but they stay close to other hippos when resting.
Fact 8
Hippopotamuses live in herds or 'bloats" of 10 to 30.
Fact 9
The gestation period is around 230 days. The young ones are born underwater. The calves weigh 55 to 120 lbs and nurse underwater.
Fact 10
The average life expectancy of a bison is 45 years.
More interesting reads about...
Click here for more animal facts ❯
RELATED FACTS
---
MORE IN ANIMALS
---