Ten fun facts about Walruses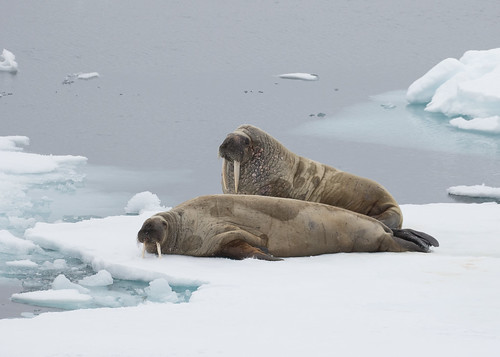 Fact 1
Walruses live in cold Arctic and sub-arctic areas.

Fact 2
They are cinnamon brown in color. The hind flippers of walruses can rotate under its pelvis which allows them to walk on all fours on land.

Fact 3
Walruses weigh from 2,000 to 3,000 lbs and can grow to 12 feet in length.

Fact 4
Both males and females have large tusks that are up to 3 feet long. These are used to cut through ice, get out of water and for defense.

Fact 5
Their diet includes mussels, clams, mollusks, sea cucumbers and other benthic or bottom dwelling organisms that are located through their whiskers.

Fact 6
Walruses are very social animals and congregate in large herds or pods. They are very noisy and cram onto beaches and ice floes by the thousands.

Fact 7
When attacked, they stampede for open water, crushing their calves in the process. This is the reason most females and calves form separate herds.

Fact 8
Walruses spend two-thirds of their lives in water. They do not have good eyesight but they have highly developed sense of hearing and smell.

Fact 9
Females haul out on the ice to give birth. The gestation period is 15 – 16 months.

Fact 10
Females give birth to one calf. The calves weight from 99 to 165 lbs at birth. They grow rapidly on their mother's milk.



More interesting reads about...
Click here for more animal facts ❯
RELATED FACTS
---
MORE IN ANIMALS
---
Short about Walruses
Are the most garrulous pinnipeds or marine mammals with broad heads, flippers, short muzzle, small eyes, tusks and whiskers.

Languages
Deutsch
Français
Español
English