Ten fun facts about Polar bears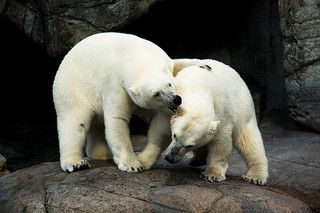 Fact 1:
The polar bears babies are much smaller than human babies when they're born.

Fact 2:
Polar bears have very good swimming ability and can swim a very long distance without any halt.

Fact 3:
A polar bear's closest relative is the brown bear.

Fact 4:
Polar bear feet are covered with small bumps called papillae to keep them from slipping on ice.
Fact 5:
The number of bears born to female bear is generally four to five.
Fact 6:
Polar bears belong to the class mammals.
Fact 7:
They have strong smell sense and can identify the flesh from far away.
Fact 8:
Polar bear fur is oily and water repellent.
Fact 9:
Polar bears primarily eat seals.
Fact 10:
A polar bear's fur is not white, they only look white because each hair reflects the light.
More interesting reads about...
Click here for more animal facts ❯
RELATED FACTS
---
MORE IN ANIMALS
---