Ten fun facts about Koalas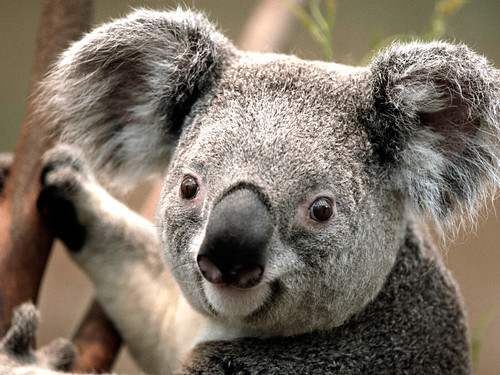 Fact 1
Koalas are an iconic Australian symbol and are not bears. They are solitary animals and largely nocturnal.

Fact 2
During the breeding season, the loud call of the male can be heard at a distance of almost a kilometer away. Otherwise, they are usually not noisy animals.

Fact 3
The young ones are called 'cubs' or 'joeys'. The gestation period is 35 days. Baby koalas are born blind and drink milk from the mother. Only one cub is born at a time and carried in the mother's pouch for 5 months.

Fact 4
Koalas have very sharp teeth and claws. They have strong limbs that enable them to claim tree trunks. They have big ears, large noses and thick fur.
Fact 5
They grow up to about 25 – 30 inches in length and the adult male weighs around 15 to 30 lbs.
Fact 6
Koalas sleep in eucalyptus for up to 19 hours. They feed mainly on these leaves. An adult can eat about a kilogram of eucalyptus leaves each night.
Fact 7
Their keen sense of smell helps signal the amount of toxin in the leaves.
Fact 8
They live up to 20 years.
Fact 9
Koalas communicate by making noises that sound like a snore and then a belch which is referred to as "bellow."
Fact 10
Koalas have five fingers, out of which one is an opposable thumb that helps them grip tree branches. They use their thickly padded tail to help sit in trees for hours.
More interesting reads about...
Click here for more animal facts ❯
RELATED FACTS
---
MORE IN ANIMALS
---