Ten fun facts about Dolphins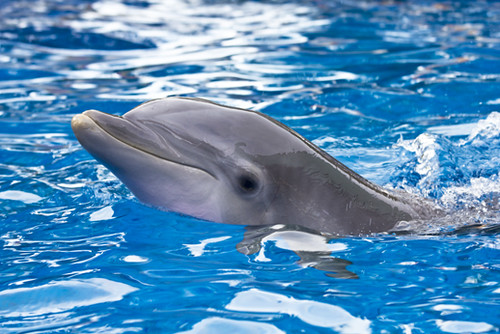 Fact 1
Dolphins are highly active and acrobatic. They are the fastest swimmers of all cetaceans with a speed of about 25 mph and they can leap 30 ft. in the air.

Fact 2
They have a unique sense of hearing. The ear openings are small slits that are located behind their eyes.

Fact 3
Dolphins have specially adapted lens and cornea that enable them to have excellent vision both in and out of the water. They do not have any olfactory lobes or olfactory nerves, which may be responsible for their poorly developed sense of smell.

Fact 4
They have 100 teeth and use them to get fish but not for eating. They can consume up to 30 pounds of fish in a day.
Fact 5
Dolphins rely on their pectoral fins and the fluke which is the tail to help them navigate through water.
Fact 6
A collective group is referred to as a school of dolphins. They live in families which are normally led by a female dolphin.
Fact 7
They can communicate in the water by identifying sound waves and use echolocation to navigate and find food.
Fact 8
Dolphins give birth to live young and nurse them with milk.
Fact 9
Dolphins have a thick layer of fat beneath their skin which is called blubber which keeps them warm in cold waters.
Fact 10
Not all dolphins live in sea water. Some species like the river dolphins live in fresh water.
More interesting reads about...
Click here for more animal facts ❯
RELATED FACTS
---
MORE IN ANIMALS
---