Ten fun facts about Manatees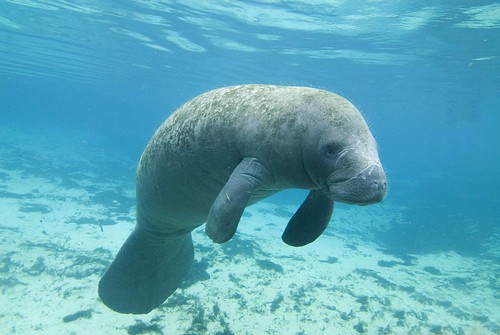 Fact 1
Manatees are found in slow-moving shallow rivers, estuaries, canals, saltwater bays and coastal areas where freshwater vegetation and sea grass beds flourish.

Fact 2
They eat floating aquatic and semi–aquatic plants. Their min food is algae but they also eat fish and invertebrates. The amount of vegetation consumed daily by a manatee is equivalent to 10 – 15% of their body weight.

Fact 3
These mammals rest submerged at the bottom and come up to breathe on an average of three to five minutes.

Fact 4
They can swim in short bursts for up to 20 mph though their normal speed is 3 – 5 mph.

Fact 5
Manatees live up to 60 years and weigh about 2,000 lbs. They grow to 12 ft. in length.

Fact 6
A manatee reaches sexual maturity when it is about 5 years of age. One calf is born once in 2 – 5 years. The gestation period is one year and mothers nurse their young for one to two years.

Fact 7
Manatees can hear well though they do not have ear lobes externally and can see quite well.

Fact 8
Their colors are usually gray or gray-brown. They are 9 ft long and weigh about 1,000 lbs.

Fact 9
They lose their teeth continuously and new tooth that form at the back of the mouth push the existing teeth in front.

Fact 10
Manatees have 3 - 4 fingernails on each of their flippers. These are used to roll, somersault, swim upside down and vertically and walk on shallow water.



More interesting reads about...
Click here for more animal facts ❯
RELATED FACTS
---
MORE IN ANIMALS
---