Ten fun facts about Sea Lions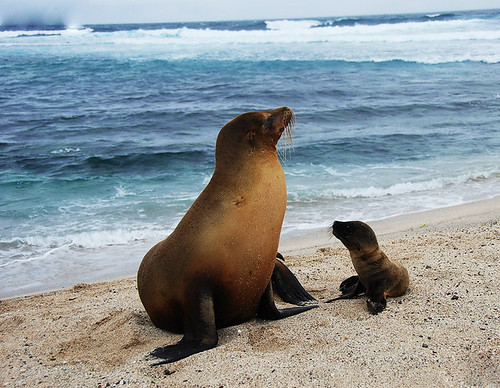 Fact 1
Sea Lions have external ear-flaps that are adapted for seeing below as well as above water. They can propel with their front flippers and steer with the back ones.

Fact 2
These pinnipeds are carnivores and eat different types of fish.

Fact 3
Sea Lions live in cold, sub-Arctic areas while some live in warmer climates, including California. Their lifespan is 4 years.

Fact 4
The Male Stellar sea lions can weigh up to 3,000 pounds and females up to 770 pounds.
Fact 5
Sea lions have streamlined bodies that enable them to maneuver through water quickly. They have a good supply of oxygen that allows them to dive and hunt prey in oceans.
Fact 6
The collective name for a group of male sea lions is a herd, colony or pod, and a group of females is called a harems. The males are called Bull and the females are called Cows. The babies are called pups.
Fact 7
They give live birth to their young. Females also nurse pups with milk produced in their bodies.
Fact 8
Sea Lions can dive up to 600 feet for food in the water and remain under water for up to 40 minutes before surfacing for air.
Fact 9
They move at 10 mph though they can swim at 25 mph.
Fact 10
Sea Lions are intelligent and timid but can become aggressive when it comes to earning the right to mate with females.
More interesting reads about...
Click here for more animal facts ❯
RELATED FACTS
---
MORE IN ANIMALS
---