Ten fun facts about Wolves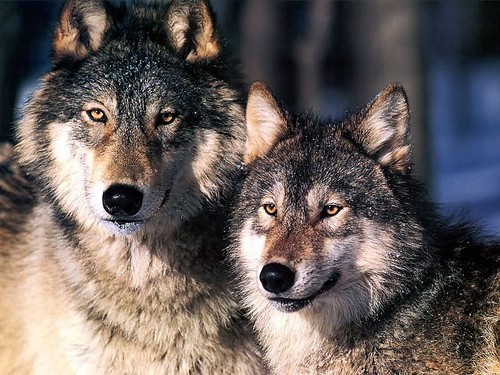 Fact 1
Wolves belong to the dog family which includes coyotes, foxes and jackals and they are the largest in the wild canine family.

Fact 2
These animals live in packs and are family-oriented. The male and the female of the pack are known as 'Alphas'.

Fact 3
They can live up to 10 years. These animals are prone to infections and disease such as rabies and distemper.

Fact 4
Wolves have 42 teeth and shed their fur once a year. Their jaws are capable of generating 1,500 psi pressure. Their canine teeth interlock to grip and hang on to struggling prey. The back teeth or carnassials molars can shear meat and crush bones.
Fact 5
The mating season occurs in February and March and the gestation period is 63 days.
Fact 6
The average size of their litter is 4 to 7 pups.
Fact 7
Wolves communicate with each other by integration and harmony rather than submission and aggression. They are territorial and use scent marking and vocalizations to defend their territories.
Fact 8
They shed their hair in sheets during spring and summer. They have two types of hair which are referred to as "undercoat" and "Guards.'
Fact 9
The sense of smell for wolves is 100 times more than that of humans.
Fact 10
Wolves can trot almost indefinitely at t 5 to 10 mph. Their front feet are larger than their back feet.
More interesting reads about...
Click here for more animal facts ❯
RELATED FACTS
---
MORE IN ANIMALS
---