Ten fun facts about Guinea Pigs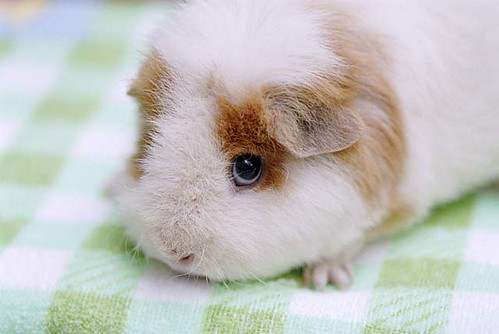 Fact 1
Guinea pigs are also called cavies. They live in social groups or colonies called herds with a dominant boar that breeds with the females.

Fact 2
A male is a boar and female is a Sow. Babies are called pups.

Fact 3
Their life span is from 5 to 8 years.

Fact 4
Their ears are very sensitive to loud noises. They have 4 toes on the forefoot and 3 on the hind foot
Fact 5
Happy guinea pigs jump straight up and down and this is called 'popcorning.' They are relaxed when they are seen in a stretched out position.
Fact 6
Guinea pigs freeze when threatened for a few seconds and then flee to a place of safety such as a burrow.
Fact 7
They are strict herbivores. They eat fruits, vegetables, alfalfa and timothy hay.
Fact 8
Guinea pigs are social critters and mate and multiply quickly. Their teeth constantly grow so it is necessary for them to chew constantly to wear them down.
Fact 9
They produce white milk looking fluid at the corner of their eyes. They use their front feet to wipe the fluid from their eyes around their faces and over their heads when they bathe.
Fact 10
Guinea pigs are active for up to 20 hours per day and only sleep short periods. They are poor climbers and not very agile.
More interesting reads about...
Click here for more animal facts ❯
RELATED FACTS
---
MORE IN ANIMALS
---