Ten fun facts about Kiwis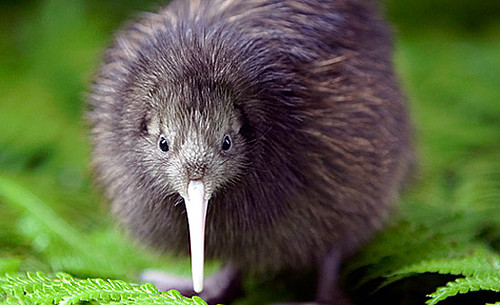 Fact 1
Kiwis are found in New Zealand in alpine environments, scrublands, farmlands, pine forests, swamps and vegetated gullies.

Fact 2
Their lifespan is 40 years. Kiwis are nocturnal, shy and are extremely territorial in nature. They fiercely protect their 'patch' and use their razor-sharp claws to fight.

Fact 3
These birds have long necks, stout legs, bristly hair-like feathers and long whiskers. Kiwis do not have tails. They have vestigial wings hidden within the plumage.

Fact 4
They weigh 800 g to 1 kg and grow to a height of 50 cm.
Fact 5
Females are larger than males. The gestation period is 80 days. They have one offspring. Kiwis live in pairs and mate for life.
Fact 6
The male kiwi sits on the egg. It takes 30 days to hatch. The eggs are quite large compared to their body size and averages 20% of the female weight.
Fact 7
Their diet consists of spiders, worms, grubs, bugs, fruit, freshwater crayfish, eels and frogs.
Fact 8
Kiwis have external nostrils at the end of their bills and have a highly developed sense of smell. They have small eyes that are inefficient in full sunlight.
Fact 9
Their strong legs help burrow and rip apart rotten logs. Kiwis make sniffling noises when clearing dirt out of its nostrils when searching for food.
Fact 10
Their average body temperature is 38 degrees C which is 2 degrees lower than other birds and two degree higher than humans.
More interesting reads about...
Click here for more animal facts ❯
RELATED FACTS
---
MORE IN ANIMALS
---