Ten fun facts about Toads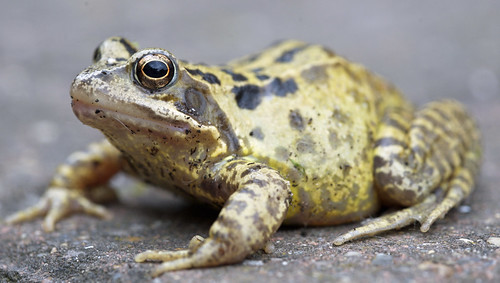 Fact 1
Toads are generally terrestrial in their habits except during the breeding season when they seek water.

Fact 2
They come out at night to feed on insects and burrow beneath the earth in the daytime. Toads hibernate during the winter.

Fact 3
Toads have recessed eyes and they have dry bumpy warty skin and do not have teeth. Toads shed their skins regularly and often eat the dead skin.

Fact 4
They weigh from 20 to 80 kg and their length ranges from 8 – 13 cm.
Fact 5
Toads live on land as well as in water, in gardens, large water bodies, woodlands, scrubs and rough grasslands. Their lifespan is 20 to 40 years.
Fact 6
Their diet includes insect larvae, spider, insects and flies and other invertebrates.
Fact 7
The collective name for a group is a Knot.
Fact 8
Babies are called tadpoles. The gestation period is 10 days and they lay 600 to 4000 eggs. Their eggs are usually laid in long strings.
Fact 9
Toads secrete a toxic foul tasting substance called bufagin to deter predators. They have bulges or glandular areas called parotid glands on the back of their heads.
Fact 10
During mating, male toads clasp females in a special hold known as "Amplexus". They remain like this for a few days as the female lays her spawn.
More interesting reads about...
Click here for more animal facts ❯
RELATED FACTS
---
MORE IN ANIMALS
---