Ten fun facts about Octopuses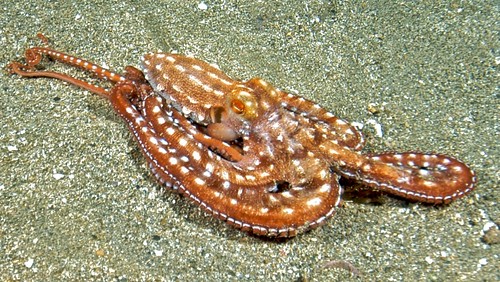 Fact 1
The blue-ringed octopuses are the most venomous creatures on this earth. They are small in size but have the ability to kill 26 human beings within a span of few minutes.

Fact 2
They have two eyes, four pairs of arms or tentacles, three hearts, a large head or "mantle", with its mouth at the center point of the arms.

Fact 3
Octopuses use the suckers on their tentacles to help them move, grip slippery surfaces and for tasting. They look for clams, fish, crayfish and crabs.

Fact 4
They are very intelligent and can navigate through mazes. They possess a long term memory.
Fact 5
Octopuses squirt clouds of ink and change color to create camouflage. They sever their tentacles off to get out of desperate situations and these re-grow.
Fact 6
They have excellent eye-sight and have sensors in their eyes. The slit of their eyes remains horizontal though the eyes automatically rotate based on the orientation.
Fact 7
They have short life spans that may be as little as six months to five years. The largest octopus weighs about 15 kg.
Fact 8
Female octopuses lay around 40,000 eggs and die when the eggs hatch and rise to the upper waters of the sea.
Fact 9
Their blood contains a copper rich protein and is blue in color. They are deaf.
Fact 10
Their nervous system is highly complex. Octopuses do not have any internal or external skeletons.
More interesting reads about...
Click here for more animal facts ❯
RELATED FACTS
---
MORE IN ANIMALS
---