Ten fun facts about Eugene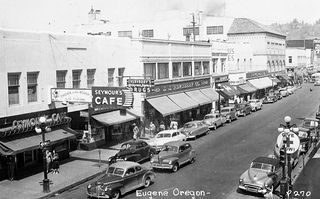 Fact 1
It is the second-largest city in the U.S. state of Oregon and the county seat of Lane County.

Fact 2
Eugene is home to the University of Oregon.

Fact 3
The city is also noted for its natural beauty, recreational opportunities (especially bicycling, running/jogging, rafting, kayaking), focus on the arts, activist political leanings, and residents with "alternative" lifestyles.

Fact 4
Eugene is noted for its community inventiveness. Many U.S. trends in community development originated here.
Fact 5
Several neighborhoods are known for their green activism.
Fact 6
Eugene's slogan is "A Great City for the Arts and Outdoors".
Fact 7
It is also referred to as the "Emerald City", and as "Track Town, USA".
Fact 8
The Nike corporation had its beginnings in Eugene.
Fact 9
Eugene is named after its founder, Eugene Franklin Skinner. Until 1889, it was named Eugene City.
Fact 10
Eugene is slightly cooler on average than Portland.
More interesting reads about...
Click here for more u.s. city facts ❯
RELATED FACTS
---
MORE IN U.S. CITIES
---