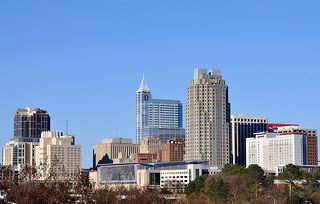 1. Raleigh, North Carolina: A City Named After a Famous Explorer
Raleigh, North Carolina was named after the famous English explorer, Sir Walter Raleigh. He is best known for his attempts to establish an English colony in the 1580s, which ultimately failed. However, his legacy lives on in the city of Raleigh, which was named in his honor. Raleigh is now the capital of North Carolina and is home to a population of over 500,000 people. It is a vibrant city with a rich history, and its name serves as a reminder of the courage and ambition of Sir Walter Raleigh.

Also → North Carolina's oldest State University

Advertisement

2. The Capital of North Carolina
In 1792, the city of Raleigh was founded as the capital of North Carolina. It has since grown to become the second-most populous city in the state, with a population of over 474,000 people. Raleigh is known for its vibrant culture, diverse economy, and rich history, making it a popular destination for tourists and residents alike. The city is home to numerous universities, museums, and parks, as well as a thriving business district. Raleigh is also home to the North Carolina State Capitol, which serves as the seat of government for the state.
Also → Virginia Beach: A Unique Coastal City Close to North Carolina
3. The City that enjoys the best of both worlds
Raleigh, the capital of North Carolina, is situated in a unique location, halfway between the majestic Blue Ridge Mountains and the vast Atlantic Ocean. This strategic positioning allows the city to enjoy the best of both worlds, with the stunning natural beauty of the mountains and the exciting coastal lifestyle of the ocean. Raleigh is a great place to explore the outdoors, with plenty of opportunities for hiking, camping, and fishing, as well as a variety of water sports.
Also → Evan Rachel Wood: Actress, Born in North Carolina
4. The City of Oaks: A Look at Raleigh's Oak Trees
Raleigh, North Carolina is affectionately known as the "City of Oaks" due to its abundance of majestic oak trees. These trees are a defining feature of the city, providing a lush canopy of green throughout the area. The city is home to a variety of oak species, including white, red, and black oaks, as well as a number of hybrid varieties. The trees are a source of pride for the city, and their beauty is a major draw for visitors and residents alike.

Also → N.C. Central U: A History of Education for African Americans

Advertisement

5. The City of Music and Performing Arts
Raleigh is renowned for its vibrant music and performing arts scene, offering a wide range of experiences from operas and symphonies to theaters and more. Visitors flock to the city to take in the sights and sounds of its many shows, making it a must-visit destination for those looking to experience the best of the performing arts. With a variety of performances to choose from, Raleigh is sure to provide an unforgettable experience for all who visit.
Also → Greensboro, North Carolina: A Brief History
6. Three Museums in Raleigh That Are Open to the Public Free of Charge
Raleigh, North Carolina is home to three fascinating museums that are open to the public free of charge. From the North Carolina Museum of Natural Sciences, which features interactive exhibits and a living conservatory, to the North Carolina Museum of History, which showcases the state's rich cultural heritage, to the North Carolina Museum of Art, which houses a vast collection of artwork from around the world, Raleigh offers a wealth of educational and cultural opportunities for visitors of all ages.
Also → Winston-Salem, North Carolina's Most Livable City
7. The Capitol of North Carolina
Raleigh, North Carolina is a city of historical significance, boasting the state capitol as one of its many national historic landmarks. Located in the heart of the city, the capitol building is a testament to the city's rich history and culture, and is a must-see for any visitor to the area. With its impressive architecture and beautiful grounds, the capitol is a reminder of Raleigh's place in the nation's history.

Also → Charlotte's Cultural Attractions

Advertisement

8. Raleigh, North Carolina: The Live Music Capital of the South
Raleigh, North Carolina is renowned as the live music capital of the state, with many renowned national acts and DJs making it a regular stop on their tours. From rock to hip-hop, country to jazz, the city offers a wide variety of musical genres for fans to enjoy. With its vibrant nightlife and numerous venues, Raleigh is a must-visit destination for music lovers. From the Red Hat Amphitheater to the Lincoln Theatre, there's something for everyone in the city's lively music scene.
Also → Mexico City is the largest city in North America
9. Raleigh's Research Park: A Hub of Innovation
Raleigh is home to one of the world's most impressive technological research parks, boasting a number of renowned companies such as IBM, Cisco, Nortel Networks, Sony Ericsson, and Lenovo. This research park is a hub of innovation, providing a platform for these companies to collaborate and develop cutting-edge technologies that will shape the future. It is a testament to Raleigh's commitment to technological advancement and its potential to become a leader in the field.
Also → Andrew Johnson: The Self-Educated Tailor Who Became President
10. Shaw University: A History of Hope and Opportunity
Raleigh, North Carolina is home to Shaw University, the first historically black university in the South. Founded in 1865, Shaw University was the first institution of higher learning for African Americans in the region and has since become a beacon of hope and opportunity for generations of students. The university offers a wide range of degree programs, from undergraduate to doctoral, and is committed to providing a quality education to its diverse student body.
More facts on