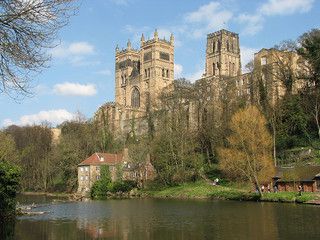 1. Dr. Durham's Legacy Lives On in Durham, North Carolina
Durham, North Carolina was named after Dr. Bartlett Snipe Durham, who owned extensive pieces of land in the area that is now the downtown area. Dr. Durham's family name has been immortalized in the town's name, a lasting reminder of his legacy in the area.

Also → North Carolina's oldest State University

Advertisement

2. The Great Indian Trading Path in Durham, North Carolina
Durham, North Carolina has a rich history that dates back to the Native Americans who inhabited the area. The Great Indian Trading Path, which was used by Native Americans to trade goods and services, passed through the city, leaving a lasting impact on the area. This path was used for centuries and is still visible today, providing a reminder of the Native American influence on the city.
Also → Greensboro, North Carolina: A Brief History
3. The Train Trestle Bridge: Durham's Tough Bridge
Durham is home to the world's toughest bridge, the Train Trestle Bridge. Standing at an impressive 11 feet and 8 inches tall, it has proven to be a challenge for even the largest of trucks and over-sized vehicles, with many accidents occurring at the bridge. Despite its difficulty, the bridge remains a popular attraction in Durham, drawing visitors from all over the world.
Also → Durham University honors Peter Ustinov with new college
4. N.C. Central U: A History of Education for African Americans
Durham, North Carolina is home to North Carolina Central University, the country's first historically black educational institution to be publicly supported. Founded in 1910, the university has a long and proud history of providing educational opportunities to African Americans, and has since grown to become a major research university. With a student body of over 8,000, NCCU offers a wide range of degree programs, from undergraduate to doctoral, and is a leader in the fields of law, business, and the sciences.

Also → Shaw University: A History of Hope and Opportunity

Advertisement

5. Discover Home to 300 Medical Companies
The city of Durham, North Carolina is aptly nicknamed the City of Medicine, as it is home to over 300 health-related and medical companies and medical practices. From pharmaceutical companies to medical research facilities, Durham is a hub of medical innovation and progress. With a wide range of medical services and resources, Durham is a leader in the medical field and a great place to receive medical care.
Also → Winston-Salem, North Carolina's Most Livable City
6. The Piedmont Bottomland Forests of Durham, North Carolina
Durham, North Carolina is home to an impressive 96,000 acres of evergreen and hardwood forests, including the only surviving ancient Piedmont Bottomland forests in the area. These forests are a unique and important part of the city's natural landscape, providing a habitat for a variety of wildlife and offering a peaceful retreat for outdoor enthusiasts. The Piedmont Bottomland forests are especially noteworthy, as they are the only remaining examples of their kind in the region.
Also → Elton Brand's Foundation Provides Support to Worthy Causes
7. Keeping Your bearings in Durham
Driving around Durham can be a bit of a challenge, as the numbers and names of roads can change without warning. This is especially true in certain areas of the city, where roads may be renamed or renumbered without prior notice. To make sure you don't get lost, it's important to stay up to date on any changes to the roads in the area.

Also → Sioux Falls: A Major Health Care Hub

Advertisement

8. Durham's Naming System
The roads of Durham, North Carolina, can be confusing to navigate, as they are referred to by a variety of different names. Some roads are simply numbered, while others are named after individuals as a tribute. This memorial naming system is used to honor individuals who have made a significant contribution to the city.
Also → Fayetteville, North Carolina: A City with a Rich History
9. Durham's Bullock's BBQ: 58 Years of Excellence
Durham's Bullock's BBQ is a city landmark and the oldest continuously operating restaurant in the city, having been in business for an impressive 58 years. What's more, it has consistently achieved an A rating in its health inspections, a testament to its commitment to providing quality food and service.
Also → Virginia Beach: A Unique Coastal City Close to North Carolina
10. Durham, North Carolina: A City with a History of Civil Rights Activism
Durham, North Carolina, is a city with a rich history of civil rights activism. In 1957, it was the site of the first sit-in of the Civil Rights Movement, when seven people, led by Dr. Pauli Murray and Joseph McNeil, gathered at the city's church to plan a protest. This protest was the first of many that would eventually lead to the desegregation of public spaces and the end of Jim Crow laws. The city of Durham continues to honor this legacy of civil rights activism, and is a beacon of hope for those who strive for justice and equality.
More facts on