Ten fun facts about Sioux Falls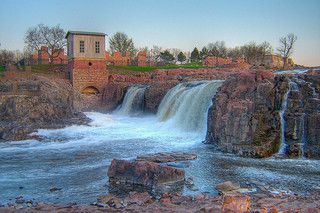 Fact 1
The history of Sioux Falls revolves around the cascades of the Big Sioux River. The falls were created about 14,000 years ago during the last ice age.

Fact 2
Due to its inland location, Sioux Falls experiences a humid continental climate.

Fact 3
Partially due to the lack of a state corporate income tax, Sioux Falls is the home of a number of financial companies.

Fact 4
Sioux Falls has three international sister cities: Potsdam, Germany; Newry and Mourne District Council, Northern Ireland.
Fact 5
In 1992, a healthy economy, low unemployment, and a low crime rate led to Sioux Falls being named "the best place to live in America" by Money Magazine.
Fact 6
In 2007, Allstate awarded Sioux Falls with the Allstate Safety Leadership Award in recognition of the safe drivers of the area, with Sioux Falls residents averaging an accident once every 13.7 years. Sioux Falls was honored with the award again in 2008.
Fact 7
In the November 2007 issue of Men's Health Magazine, Sioux Falls was ranked #2 on the list of cities with the least debt, finishing just behind Billings, Montana.
Fact 8
Sioux Falls is a significant regional health care center.
Fact 9
Because of the relatively long distances between Sioux Falls and larger cities, Sioux Falls has emerged as an important regional center of shopping and dining.
Fact 10
Forbes named Sioux Falls the #1 Best Small Place For Business And Careers in 2005, 2006, 2007, 2008 and 2009.
More interesting reads about...
Click here for more u.s. city facts ❯
RELATED FACTS
---
MORE IN U.S. CITIES
---