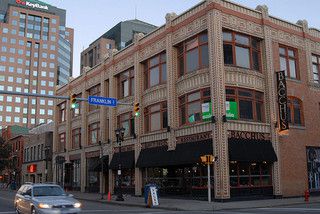 1. Buffalo, New York: A City of Many Names
Buffalo, New York, is known by many names, including "The City of Good Neighbors", "The Queen City", "The City of No Illusions", "The Nickel City", "Queen City of the Lakes", and "City of Light". This city has earned its many nicknames over the years, from its friendly and welcoming residents to its beautiful lakeside location and its commitment to providing its citizens with a high quality of life. Buffalo is a city of many faces, and its many names reflect its unique and diverse character.

Also → Millard Fillmore: Lasting Legacy in Buffalo

Advertisement

2. Buffalo, New York: The Second Most Populous City in New York
Buffalo, New York is the second most populous city in the state, with a population of over 260,000 people. Located on the eastern shore of Lake Erie, Buffalo is the principal city of the Buffalo-Niagara Falls metropolitan area, which is home to over 1.2 million people. The city is known for its rich history, diverse culture, and vibrant economy, and is home to a number of major attractions, including the Buffalo Zoo, the Buffalo and Erie County Botanical Gardens, and the Buffalo Museum of Science.
Also → African Buffalo: Unique Species Belonging to the Genus Found in Africa
3. 10 Best Places to Raise a Family in America
Buffalo, New York, was rated the 10th best place to raise a family in America by Forbes in 2010. This ranking was based on factors such as cost of living, quality of schools, crime rate, and cultural and recreational opportunities. Buffalo scored particularly well in terms of affordability, with the cost of living being significantly lower than the national average. Additionally, the city boasts a wide variety of cultural and recreational activities, making it an ideal place for families to live and grow.
Also → The American Bison is Not a True Buffalo
4. Buffalo's Low Annual Snowfall Doesn't Mean It's Not Cold
Buffalo, New York is known for its cold and snowy winters, but it is rarely the snowiest city in the state. Despite its reputation, Buffalo's average annual snowfall is only 93.6 inches, which is lower than many other cities in the state, such as Syracuse, which averages 115.8 inches of snow per year. Despite this, Buffalo's winters are still quite cold, with temperatures averaging around 28°F in January.

Also → "Water Buffalo Milk: A Dairy Must-Have"

Advertisement

5. Buffalo's Breweries: A History of Local Flavor
The city of Buffalo is renowned for its brewing traditions, which are kept alive by the Pearl Street Brewery and Flying Bison Brewing Company. Both of these establishments have been producing beer for the city since the early 2000s, and have become well-known for their unique takes on classic styles. From the hoppy IPAs of Pearl Street to the Belgian-style ales of Flying Bison, these breweries are sure to satisfy any beer lover's palate.
Also → Buffalo Bill Cody's Legacy Lives On in Rochester
6. 50 Private and Public Art Galleries in Buffalo
The city of Buffalo is a haven for art lovers, boasting over 50 private and public art galleries. The most renowned of these is the Albright-Knox Art Gallery, which houses an impressive collection of modern and contemporary art from around the world. This gallery is a must-see for anyone visiting Buffalo, as it offers a unique opportunity to explore some of the most renowned works of art from the past century.
Also → Longest US Toll Road: NY's Dewey Thruway
7. Buffalo's Music Legacy
The city of Buffalo, New York has been the birthplace of some of the most iconic musicians and bands of the past few decades. From the funk-soul of Rick James to the hard rock of Billy Sheehan, the punk of The Quakes to the alternative rock of The Goo Goo Dolls, Buffalo has been the launching pad for some of the most influential music of the last few decades.

Also → Vince Vaughn: A Buffalo Grove Boy Who Became a Hollywood Star

Advertisement

8. Spyro Gyra: The Birthplace of Jazz Fusion
The city of Buffalo, New York has been the birthplace of many musical acts, including the jazz fusion band Spyro Gyra. Founded in 1974, the band has gone on to become one of the most successful jazz fusion groups of all time, with over 10 million albums sold worldwide. They have released over 30 albums, and have been nominated for multiple Grammy Awards. Spyro Gyra has also been credited with helping to popularize jazz fusion music, and their influence can be heard in many modern jazz acts.
Also → Jim Brown Stars in Western Action Film Rio Conchos
9. Ani DiFranco: Buffalo's Indie Queen
Ani DiFranco, the renowned indie artist, hails from Buffalo, New York. This city is also the home of her record label, "Righteous Babe". Founded in 1990, the label has released over 20 of DiFranco's albums, as well as albums from other independent artists. DiFranco has been a major influence in the indie music scene, and her label has been a major force in the independent music industry.
Also → Syracuse, New York - A Top Choice for Families
10. The Top 10 Architectural Wonders of Buffalo, New York
Buffalo, New York has been recognized by The New York Times as one of the top cities in America for its stunning architecture. From the Richardson Olmsted Complex, a National Historic Landmark, to the iconic Art Deco City Hall, Buffalo is home to a variety of architectural styles that have been carefully preserved and celebrated. The city is also home to a number of modern architectural gems, such as the Buffalo Niagara Medical Campus and the Buffalo and Erie County Public Library. With its rich architectural history, Buffalo is a must-see destination for anyone interested in exploring the beauty of American architecture.
More facts on