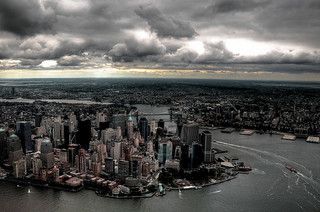 1. The Unification of New York City
In 1626, the Dutch founded the city of New Amsterdam, which would eventually become the bustling metropolis of New York City. It wasn't until 1898 that the five boroughs of Manhattan, Staten Island, Queens, Brooklyn, and the Bronx were consolidated into the modern city we know today. This consolidation marked a major milestone in the history of New York City, and has allowed it to become one of the most iconic cities in the world.

Also → Futurama: A City of the Future

Advertisement

2. The City That Served As The Nation's Capital
For five years, from 1785 to 1790, New York City served as the capital of the United States of America. During this time, the city was the center of the nation's political and economic activity, hosting the first Congress, Supreme Court, and Executive Branch of the United States. After five years, the capital was moved to Washington, D.C., where it remains today. New York City's brief tenure as the nation's capital was an important milestone in the city's history, and it continues to be a major hub of political and economic activity.
Also → Buffalo, New York: The Second Most Populous City in New York
3. The Story of How Brooklyn Became a Part of New York City
Before 1898, New York City was rivaled by Brooklyn, a bustling metropolis in its own right. Brooklyn was home to a population of over 2 million people, and was a major center of industry, commerce, and culture. It was only after the two cities merged that New York City became the largest city in the United States, with a population of over 3 million people. The incorporation of Brooklyn into New York City in 1898 marked a major turning point in the history of the city, and helped to shape the city into the vibrant and diverse metropolis it is today.
Also → Los Angeles: The Second Most populous City in the United States
4. Street Venders of A Paradise for Foodies
New York City is a bustling metropolis, and its street vendors are a testament to its vibrancy. With over 40,000 vendors of street food and more than 20,000 street vendors in total, the city is a paradise for foodies. From hot dogs and pretzels to tacos and falafel, there's something for everyone to enjoy. Whether you're looking for a quick snack or a full meal, you're sure to find something delicious on the streets of New York City.

Also → Greta Garbo's Solitary Walks in New York City

Advertisement

5. Gennaro Lombardi: The Father of American Pizza
Gennaro Lombardi, an Italian immigrant, opened the United States' first-ever pizzeria in New York City in 1905. This historic pizzeria, which is still open today, has been serving up delicious slices of pizza for over a century. Lombardi's Pizza, as it is now known, has become a beloved landmark in the city, and is a testament to the lasting legacy of Italian immigrants in the United States.
Also → Guatemala City - The Vibrant Capital of Guatemala
6. A City of Immigrants
New York City is a vibrant and diverse metropolis, home to over 2.5 million people who were born outside the United States. This equates to approximately 36% of the city's population, and around half of its residents speak a language other than English. This makes New York City a truly international city, with a wide range of cultures and languages represented.
Also → Houston: Big & Diverse in the South!
7. Explore NYC Streets: A Guide
New York City is a bustling metropolis, and it's no surprise that it has over 6,000 miles of streets contained within its 302 square mile border. That's an average of almost 20 miles of streets per square mile! This means that no matter where you are in the city, you're never far from a street, making it easy to get around and explore all the amazing attractions that the city has to offer.

Also → Half a Million in Cairo: A Bustling Metropolis

Advertisement

8. The Sixth Largest Rapid Transit System in the World
New York City is home to the sixth busiest rapid transit system in the world, with an impressive 1.5 billion passengers taking the subway each year. What makes this system so remarkable is its sheer size; it is the most extensive rapid transit system in the world, with 472 stations and over 800 miles of track. This extensive network of trains and stations allows New Yorkers to get around the city quickly and easily, making it one of the most convenient cities in the world.
Also → Syracuse: A bustling city with opportunity
9. New York City's Underground Musicians: The Most Talented in the World
New York City's subway musicians are some of the most talented in the world, having gone through a rigorous selection process to be able to perform in the subways. Many of these musicians have even performed at prestigious venues such as Carnegie Hall before taking their talents to the underground. It's no wonder why the subway music scene in New York City is so vibrant and unique.
Also → Mozambique's Capital City, Maputo, Is a Vibrant and Busy Metropolis
10. The Perfect Setting for 20,000 Films and Movies
Since 1908, New York City has been the backdrop for an astonishing 20,000 films and movies. From classic films like Breakfast at Tiffany's and Taxi Driver to modern blockbusters like Spiderman and The Avengers, the city's iconic skyline and bustling streets have provided the perfect setting for countless stories. Whether it's the bright lights of Times Square or the cobblestone streets of the West Village, New York City has been the perfect backdrop for filmmakers for over a century.
More facts on