Ten fun facts about Denver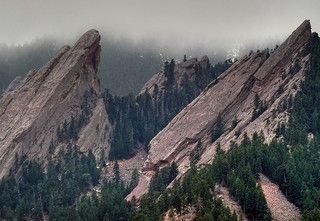 Fact 1
Dubbed the "Mile-High City," Denver's official elevation is exactly one mile above sea level.

Fact 2
Legend has it that the first permanent structure ever built in Denver was a saloon.

Fact 3
Denver was the first city in the United States to legalize the adult use of marijuana in 2005.

Fact 4
Historically, the area where Denver stands now was shared by three cities. As the story goes, the other two cities incorporated with Denver in exchange for a barrel of whiskey.
Fact 5
Featuring one of the largest city park systems in the United States, Denver features over 80 golf courses, and about 700 miles of paved trails.
Fact 6
Denver's view is notably fantastic. The panoramic view of the mountain ranges around Denver stretches over 140 miles.
Fact 7
Over 200 ounces of 24-karat gold cover the dome of the Denver Capitol Building. Additionally, the world's only known supply of a rare stone, Colorado Onyx, was used to create the building's wainscoting.
Fact 8
The early settlement of Denver was destroyed twice, by flooding and by fire. Natives had warned settlers not to use the land.
Fact 9
Led Zeppelin, the internationally famous band, played their first-ever American show in 1968 in Denver.
Fact 10
Denver is home to America's longest street, Colfax Avenue.
More interesting reads about...
Click here for more u.s. city facts ❯
RELATED FACTS
---
MORE IN U.S. CITIES
---