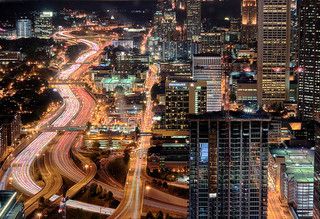 1. The City That Has It All
As the cultural and economic hub of the Atlanta metropolitan area, Atlanta is a vibrant city with a wide range of attractions. From its world-renowned museums and galleries to its bustling business district, Atlanta offers something for everyone. The city is home to a thriving arts and culture scene, with a variety of performing arts venues, galleries, and museums. Additionally, Atlanta is a major economic center, boasting a diverse range of industries, including finance, technology, and healthcare. With its vibrant culture, diverse economy, and abundance of attractions, Atlanta is a city that has something for everyone.

Also → "CDC Inspired by 'The Walking Dead'"

Advertisement

2. A City of Progress
. Atlanta, Georgia has long been known for its progressive views and citizens, earning it the nickname of "too busy to hate" following the Civil Rights Movement. This reputation was earned due to the city's leaders and citizens who actively worked to promote civil rights and equality for all. This progressive attitude has been a hallmark of the city for decades, and continues to be a source of pride for the people of Atlanta.
Also → Georgia: The Largest State in the Southeastern US
3. The Perfect Place to Visit or Live
As the primary transportation hub of the Southeastern United States, Atlanta is a bustling city with a variety of transportation options. From highways to railroads to air travel, Atlanta has it all. Hartsfield–Jackson Atlanta International Airport is the world's busiest airport since 1998, making it the perfect destination for travelers from all over the world. With its convenient location and wide range of transportation options, Atlanta is the ideal place to visit or live.
Also → The Heart of the Midwest: Kansas City
4. The Zombie Capital of the World
Atlanta has become renowned as the "Zombie Capital of the World" due to its prolific production of horror and zombie-related films, television shows, and other media. The city has become a hub for zombie-themed entertainment, with major productions such as The Walking Dead, Zombieland, and Resident Evil all being filmed in and around the city. Atlanta's zombie-friendly atmosphere has also attracted numerous zombie-themed events, such as the annual Atlanta Zombie Pub Crawl and the Atlanta Zombie Walk. With its growing reputation as a zombie-friendly destination, Atlanta is sure to remain the Zombie Capital of the World for years to come.

Also → The Mid-Sized City with a Thriving Economy: Lincoln, Nebraska

Advertisement

5. A City of Diversity
Atlanta is a city that has evolved and grown beyond its Southern roots. While it still retains its Southern charm, the city has become a melting pot of cultures, with influences from all over the world. From its vibrant music scene to its diverse restaurants, Atlanta is a city that embraces its Southern heritage while also embracing the cultures of its many newcomers. With a population of over 500,000, Atlanta is a city that is constantly changing and growing, and its culture reflects that.
Also → Las Vegas: A City of Entertainment and Diversity
6. Hot Summers, Cool Winters!
The summers in Atlanta are sweltering and humid, with temperatures often reaching into the high 80s and 90s. The humidity can make it feel even hotter, making it difficult to stay cool. Winters in Atlanta are usually cool, but temperatures can vary greatly from day to day. Some days may be mild and sunny, while others may be cold and rainy. Snowfall is rare, but it does happen occasionally.
Also → Savannah Sails to Olympic Glory
7. The Black Mecca
Atlanta is a city of immense historical significance for African Americans, often referred to as the 'Black Mecca'. It has been a hub of African American political power, education, and culture for many years, and continues to be a major center of African American life in the United States. Atlanta is home to many historically black colleges and universities, including Morehouse College, Spelman College, and Clark Atlanta University, and has been the birthplace of many influential African American leaders, including Martin Luther King Jr. and Maynard Jackson. Atlanta is also home to a vibrant African American arts and culture scene, with many galleries, museums, and performance venues dedicated to showcasing the work of African American artists.

Also → San Diego: An American Powerhouse City

Advertisement

8. The Atlanta Metropolitan Area: A Powerhouse of Economic Activity
The Atlanta metropolitan area is a powerhouse of economic activity, boasting the eighth-largest economy in the United States with a total of $304 billion. This impressive figure is a testament to the city's diverse and thriving business landscape, which includes a wide range of industries such as finance, technology, healthcare, and transportation. Atlanta's strong economy has helped to create thousands of jobs and attract businesses from around the world, making it one of the most desirable cities to live and work in.
Also → Doha: World's Top 15 City for Business
9. A Major Economic Powerhouse
Atlanta is a major economic powerhouse, boasting the 17th-largest economy in the world. The city is home to a diverse range of industries, including finance, logistics, media, technology, and healthcare, and is a major hub for international trade. Atlanta's economy is bolstered by its strategic location, with easy access to major highways, airports, and ports. The city is also home to a number of Fortune 500 companies, including Coca-Cola, Delta Air Lines, Home Depot, and UPS. With its strong economic base, Atlanta is well-positioned to continue to be a major player in the global economy.
Also → Fresno: A thriving city on the rise
10. Atlanta's High Elevation
The bustling city of Atlanta, Georgia stands out among other major cities east of the Mississippi River for its impressive elevation. At 1,050 feet above sea level, Atlanta is the highest major city east of the Mississippi, offering stunning views of the surrounding area. With its unique geography, Atlanta is a city unlike any other.
More facts on