Ten fun facts about Atlanta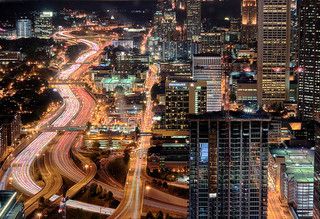 Fact 1
Atlanta is the cultural and economic center of the Atlanta metropolitan area.

Fact 2
Following the Civil Rights Movement, the city earned a reputation as "too busy to hate" for the progressive views of its citizens and leaders

Fact 3
Atlanta is the primary transportation hub of the Southeastern United States, via highway, railroad, and air, with Hartsfield–Jackson Atlanta International Airport being the world's busiest airport since 1998.

Fact 4
Known as the "Zombie Capital of the World", Atlanta has gained recognition as a center of production of horror and zombie-related productions.
Fact 5
Atlanta, while very much in the South, has a culture that is no longer strictly Southern.
Fact 6
Summers are hot and humid in Atlanta, while winters are cool but variable.
Fact 7
Atlanta has long been known as a center of African American political power, education, and culture, often called a black mecca.
Fact 8
Encompassing $304 billion, the Atlanta metropolitan area is the eighth-largest economy in the country.
Fact 9
Its economy is the 17th-largest in the world.
Fact 10
Atlanta has the highest elevation of major cities east of the Mississippi River.
More interesting reads about...
Click here for more u.s. city facts ❯
RELATED FACTS
---
MORE IN U.S. CITIES
---