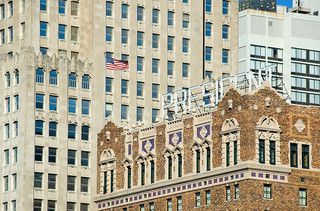 1. The Heart of the Midwest: Kansas City
Kansas City is a vibrant and bustling city, located on the Missouri-Kansas border, that is the hub of a metropolitan area of over two million people. It is a thriving metropolis, with a diverse population, a wide range of cultural attractions, and a vibrant economy. The city is home to numerous museums, galleries, and performing arts venues, as well as a variety of restaurants, bars, and nightlife. Kansas City is also a major transportation hub, with an international airport, two major interstates, and several rail lines. With its rich history, vibrant culture, and diverse population, Kansas City is a great place to live, work, and play.

Also → Overland Park, Kansas: A City on the Rise

Advertisement

2. Kansas City's Famous BBQ
Kansas City is renowned for its vibrant music and culinary scenes. It has made significant contributions to the jazz and blues genres, and is home to the famous Kansas City-style barbecue. This style of barbecue is characterized by its use of a variety of meats, including pork, beef, and chicken, and a unique blend of spices and sauces. It has become a popular dish across the United States, and is a must-try for anyone visiting Kansas City.
Also → Wichita: The Heart of Kansas
3. The Vibrant City
The vibrant city of Kansas City, Missouri, is often referred to by its abbreviation, 'KC'. This abbreviation is usually used to refer to the entire metropolitan area, which is home to over two million people and is the largest city in the state of Missouri. With its rich history, diverse culture, and vibrant nightlife, Kansas City is a great place to live and visit.
Also → Atlanta: The City That Has It All
4. The City of Fountains: A Guide to the 200+ Water Spouts in Kansas City
The vibrant city of Kansas City is known for its nickname, the City of Fountains. With over 200 fountains, it is the city with the second most fountains in the world, only behind Rome. The city is proud of its fountains, which are scattered throughout the city, from the iconic J.C. Nichols Memorial Fountain in the Country Club Plaza to the more modern fountains in the Power & Light District. The fountains are a symbol of the city's beauty and culture, and they are a popular attraction for both locals and visitors alike.

Also → Missouri - A State Like No Other

Advertisement

5. Explore Downtown KC: Art, Fountains & Cuisine!
In March 2012, Forbes magazine named downtown Kansas City as one of America's best downtowns, citing its vibrant culture in the arts, its abundance of fountains, its upscale shopping, and its renowned local cuisine - particularly its famous barbecue. With its wide variety of attractions, it's no wonder that Kansas City has become a popular destination for visitors from all over the world. From its world-class museums and galleries to its unique restaurants and boutiques, downtown Kansas City is a must-see for anyone looking for a truly memorable experience.
Also → Mexico City is the largest city in North America
6. 200 Fountains and Counting: The Most Fountain-Filled City in the World
Kansas City is a city of fountains, boasting an impressive total of over 200. This makes it the second most fountain-filled city in the world, with only Rome having more. This impressive feat is a testament to the city's commitment to beauty and culture, and it's no wonder that it's become a popular tourist destination.
Also → Guatemala City - The Most Vibrant City in Central America
7. A City Like No Other
Kansas City is a city like no other, boasting more boulevards than any other city in the world, except for Paris. This has earned it the nickname of "Paris of the Plains", a fitting title for a city that is home to a wide variety of attractions, from its world-famous barbecue to its vibrant art scene. With its unique blend of culture, history, and entertainment, Kansas City is a city that is sure to leave a lasting impression.

Also → City of Topeka: A History of Progress

Advertisement

8. The History of Kansas City
Founded in 1838, Kansas City was originally known as the Town of Kansas. It was established as a trading post along the Missouri River, and quickly grew to become a bustling city. Today, it is the largest city in the state of Missouri, and is home to a diverse population of over 500,000 people. It is known for its vibrant culture, delicious cuisine, and world-class attractions, making it a popular destination for both locals and tourists alike.
Also → Hialeah: A City of Culture
9. The Battle of Westport: A pivotal victory for the Union
Kansas City was the site of several pivotal battles during the Civil War, most notably the Battle of Westport. This battle, which took place on October 23, 1864, was the largest battle west of the Mississippi River and was a decisive victory for the Union forces. The battle resulted in the Union's control of the city and the surrounding area, and was a major turning point in the war.
Also → Richmond: Bustling City with Diversity & Attractions
10. The Soccer Capital of America
Kansas City is a city with a rich history and culture, and it is also known as "The Soccer Capital of America". This title is well-deserved, as the city has a long-standing tradition of soccer excellence. From hosting the Major League Soccer All-Star Game in 2013 to having two professional soccer teams, Sporting Kansas City and the Swope Park Rangers, the city has a deep connection to the sport. Soccer fans from all over the country flock to Kansas City to experience the passion and energy of the city's soccer culture.

Also → Glendale, California: A bustling city of over 200,000 people

Advertisement