Ten fun facts about Kansas City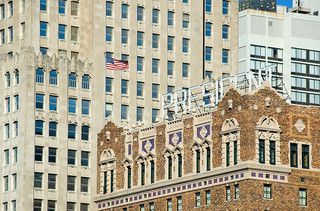 Fact 1
It is the predominant city of a metropolitan area of more than two million people spanning the Missouri–Kansas border.

Fact 2
The city is well known for its contributions to the musical styles of jazz and blues as well as to cuisine, notably Kansas City-style barbecue.

Fact 3
Kansas City, Missouri, is often abbreviated as KC (abbreviations often refer to the metro area).

Fact 4
It is officially nicknamed the City of Fountains.

Fact 5
In March 2012, downtown Kansas City was selected as one of America's best downtowns by Forbes magazine for its rich culture in arts, numerous fountains, upscale shopping and various local cuisine—most notably barbecue.

Fact 6
With over 200 fountains, the city claims to have the second most in the world, just behind Rome.

Fact 7
The city also has more boulevards than any other city except Paris and has been called "Paris of the Plains".

Fact 8
Kansas City was founded in 1838 as the Town of Kansas.

Fact 9
The city was the location of several battles during the Civil War, including the Battle of Westport.

Fact 10
It is also known as "The Soccer Capital of America".



More interesting reads about...
Click here for more u.s. city facts ❯
RELATED FACTS
---
MORE IN U.S. CITIES
---