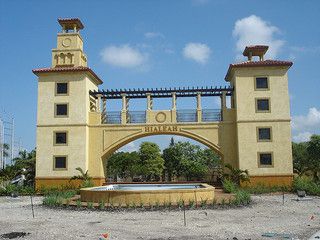 1. A Major City in South Florida
Hialeah is a major city in South Florida, ranking as the sixth largest in the state. Located within the greater Miami and South Florida metropolitan areas, it is a bustling municipality with plenty to offer. From its vibrant culture to its diverse population, Hialeah is a city that has something for everyone. With its close proximity to the beaches, shopping, and entertainment, it is no wonder why Hialeah is one of the most popular cities in the region.

Also → Pembroke Pines, Florida

Advertisement

2. Hialeah, Florida: A City with a Unique Culture and History
Hialeah, located in Florida, is a city with a largely Hispanic population and is known for its strong political conservatism. It is one of the most politically conservative communities in the United States, with over 87% of its population identifying as Hispanic or Latino. This city is home to a variety of cultures, with a rich history and vibrant culture that is unique to the area. Hialeah is a great place to visit, with plenty of attractions and activities to enjoy.
Also → Glendale, California: A bustling city of over 200,000 people
3. A Thrilling and Adrenaline-Filled Destination
Hialeah is renowned for its thrilling and adrenaline-filled sports, such as horse and greyhound racing, as well as the Spanish sport of Jai Alai. This fast-paced game is known for its dangerous and energetic nature, and is a popular attraction in the city. Hialeah is a great destination for those looking for an exciting and unique experience.
Also → Tampa: A Vibrant City on the West Central Coast of Florida
4. Hialeah, Florida: A Vibrant Cuban City
Hialeah, located in Florida, is home to the second highest percentage of Cuban American and Cuban residents of any city in the United States. This vibrant city is a melting pot of cultures, with over 94% of its population being of Hispanic origin. It is the sixth largest city in the state, and is known for its vibrant Cuban culture, with Cuban restaurants, shops, and festivals. Hialeah is a great place to experience the Cuban culture, and its residents are proud to call it home.

Also → Aruba: The Vibrant City of Oranjestad

Advertisement

5. Hialeah Park Race Track: Home to the Flamingos
The Hialeah Park Race Track in the city of Hialeah is a unique and special place. Not only is it a popular destination for horse racing, but it is also the only Audubon Bird Sanctuary in the world that is home to the iconic pink flamingoes. This dual distinction has made the Hialeah Park Race Track a popular destination for both horse racing enthusiasts and bird watchers alike. The park is home to over 200 species of birds, including the famous pink flamingoes, and is a great place to observe and appreciate the beauty of nature.
Also → Cape Coral: A Vibrant City in Southwest Florida
6. A City of Culture
Hialeah, located in Florida, is the most densely populated city in the United States without a skyscraper. With a population of over 233,000, it is the sixth largest city in the state and the twelfth largest in the country. Despite its lack of a skyscraper, Hialeah is a vibrant city with a rich cultural heritage, boasting a variety of attractions such as the Hialeah Park Race Track, the Hialeah Park Casino, and the historic Milander Park. The city is also home to a number of shopping centers, restaurants, and entertainment venues, making it a popular destination for both locals and tourists alike.
Also → Port of Spain - The Vibrant Capital of Trinidad and Tobago
7. Amelia Earhart's Legacy Lives On in Hialeah
In 1937, the city of Hialeah was the starting point of Amelia Earhart's ambitious attempt to circumnavigate the globe. The flight, which was to be the first of its kind, ended in tragedy when Earhart and her navigator, Fred Noonan, disappeared over the Pacific Ocean. Despite the failure of the mission, Earhart's legacy lives on in Hialeah, where a monument stands in her honor.

Also → The Heart of the Midwest: Kansas City

Advertisement

8. The Grand Dame: The Historic Hialeah Park Race Track
In 1925, the Hialeah Park Race Track, affectionately known as the Grand Dame, made history as it received more media coverage than any other sports event in Miami's history up to that point. This event was so popular that it was reported on by newspapers, radio stations, and television networks from all over the country. The track was filled with spectators, and the atmosphere was electric as the horses raced around the track. It was a momentous occasion that will be remembered for years to come.
Also → Overland Park, Kansas: A City on the Rise
9. A Major Economic Force in Dade County
Hialeah is a major economic force in Dade County, with its businesses providing jobs to thousands of people. As one of the largest employers in the county, Hialeah is home to a wide variety of industries, ranging from manufacturing to retail to healthcare. With its diverse economy, Hialeah is a major contributor to the local economy, providing a steady stream of jobs and economic growth.
Also → Pretoria's Burgers Park: Monument & Tourist Hotspot
10. Hialeah, Florida: Home to Telemundo
Hialeah, Florida is home to the United States' second largest Spanish-language television network, Telemundo. This network, which is headquartered in Hialeah, is a major player in the Spanish-language media industry, providing news, entertainment, and sports programming to millions of viewers across the country. Telemundo's presence in Hialeah has helped to make the city a major hub for Spanish-language media, and has helped to bring attention to the city's vibrant Hispanic culture.
More facts on