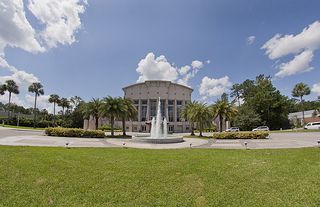 1. Gainesville, Florida - The Best Place to Live
Gainesville, Florida was recently named the #1 place to live in North America by the 2007 edition of Cities Ranked and Rated. This prestigious honor was based on a variety of factors, including the city's low cost of living, excellent public schools, and vibrant cultural and recreational activities. Gainesville is also home to the University of Florida, which provides a wealth of educational and research opportunities. With its combination of affordability, quality of life, and educational opportunities, it's no wonder Gainesville was chosen as the best place to live in North America.

Also → Gainesville, Georgia - the "Chicken Capital" of the world

Advertisement

2. Gainesville's Beautiful Tree canopy
Gainesville is a city renowned for its lush tree canopy, boasting a wide variety of species including broadleaf evergreens, conifers, and deciduous trees. The city's tree cover is both dense and diverse, providing a beautiful and vibrant landscape for its residents and visitors alike. With its abundance of trees, Gainesville is a great place to enjoy the outdoors and take in the natural beauty of the area.
Also → Chattanooga's Commitment to Urban Forestry
3. Gainesville, Florida - Tree City, USA
Gainesville, Florida has been a proud recipient of the National Arbor Day Foundation's "Tree City, USA" designation since 1982. This prestigious award recognizes cities that have made a commitment to urban forestry, with criteria including a tree board or department, a tree care ordinance, a comprehensive community forestry program, and an Arbor Day observance and proclamation. Gainesville's commitment to urban forestry has been recognized every year since 1982, making it one of the longest-running Tree City, USA cities in the nation.
Also → Modesto, California - A Tree City USA
4. Gainesville, Florida: A Climate of Extremes
Gainesville, Florida is known for its humid subtropical climate, which is characterized by hot and humid summers and mild winters. However, due to its inland location, Gainesville experiences more extreme temperature fluctuations than other parts of the state. During the summer months, temperatures can reach up to the mid-90s, while in the winter, temperatures can dip into the low 30s. This wide range of temperatures makes Gainesville an interesting place to visit, as it offers a variety of climates throughout the year.

Also → Reno, Nevada is America's "Tree City" for 28 years

Advertisement

5. Gainesville, Florida - Affordable City
Gainesville, Florida is renowned for its low cost of living, as evidenced by its inclusion in numerous guides such as the 2004 book Cities Ranked and Rated: More than 400 Metropolitan Areas Evaluated in the U.S. and Canada. This book, which evaluates cities based on a variety of criteria, including cost of living, gave Gainesville high marks for its affordability. As a result, Gainesville has become a popular destination for those looking for a place to live that won't break the bank.
Also → Tallahassee: A City of Culture and Diversity
6. Gatorade: A History of a Revolutionary Drink
In the 1960s, the University of Florida football team in Gainesville was in need of a refreshing drink, so the sports drink Gatorade was invented to meet their needs. This revolutionary drink was created right in Gainesville and has since become a staple in the sports world, providing athletes with the hydration and energy they need to perform at their best. Gatorade has become so popular that it is now sold in over 80 countries around the world.
Also → Henderson, Nevada: A City of Charm and Quality of Life
7. Gainesville's Art Festivals
Gainesville is renowned for its support of the visual arts, hosting two major art festivals annually that draw in artists and visitors from across the southeastern United States. These festivals feature a variety of art forms, from painting and sculpture to photography and mixed media, and provide a platform for local and regional artists to showcase their work. The festivals also offer a range of activities, from live music and food vendors to interactive art installations and workshops. With its vibrant art scene, Gainesville is a must-visit destination for art lovers.

Also → Norfolk, a Tree City USA

Advertisement

8. America's Healthiest Community
Gainesville, Florida made history in April 2003 when it was awarded the prestigious "Gold Well City" award by the Wellness Councils of America, making it the first and only community to be named the "Healthiest Community in America". This award was given in recognition of Gainesville's commitment to promoting healthy lifestyles and creating a safe and healthy environment for its citizens. The city has since implemented a number of initiatives to further promote health and wellness, such as providing access to healthy food, increasing physical activity opportunities, and creating smoke-free environments.
Also → Stockton, California: The Best Tree City in the United States
9. The History and Meaning of Gainesville Green
Gainesville, Florida is renowned in the recreational drug culture for its particularly potent strain of marijuana, known as "Gainesville Green". This strain is highly sought after for its strong, pungent aroma and its high THC content, making it one of the most sought-after strains of marijuana in the world. It is said to have a unique flavor and aroma that is unlike any other strain, and its effects are said to be long-lasting and powerful. Gainesville Green has become a symbol of the city's recreational drug culture, and it is a popular choice among marijuana enthusiasts.
Also → 10 Best Places to Raise a Family in America
10. Gainesville, Florida: The Birthplace of Music
Gainesville, Florida is renowned for its vibrant music scene, having produced some of the most iconic bands and musicians of all time. Tom Petty and the Heartbreakers, Stephen Stills, Don Felder and Bernie Leadon of The Eagles, The Motels, Against Me!, Less Than Jake, Hot Water Music, John Vanderslice, Sister Hazel, and For Squirrels are just a few of the many acts to have emerged from the city. With its rich musical heritage, Gainesville continues to be a hotbed of creativity and inspiration for aspiring musicians.
More facts on