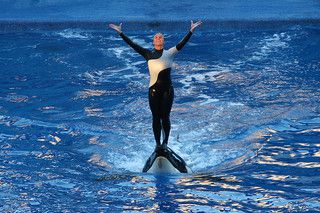 1. Hollywood East: Orlando, Florida's Major Player in the Film Industry
Orlando, Florida is a bustling hub of cinematic activity, earning it the nickname "Hollywood East". With a wide variety of production companies, studios, and other related businesses, the city is a major player in the film industry. From major motion pictures to independent films, Orlando is home to a diverse range of cinematic enterprises, making it a great place for aspiring filmmakers to get their start.

Also → The Most Visited City in the Country

Advertisement

2. Orlando, Florida: A City of Lakes and a Popular Tourist Destination
Orlando, Florida is a city of over one hundred lakes, yet it is still over an hour away from the nearest ocean. Despite its inland location, the city is still a popular tourist destination, offering a variety of activities such as fishing, boating, and swimming in the many lakes. Visitors can also enjoy the city's many parks, museums, and other attractions, as well as its vibrant nightlife. With its close proximity to the theme parks of Walt Disney World and Universal Studios, Orlando is a great place to visit for a fun and exciting vacation.
Also → Orlando Bloom: From Elf Prince to Hollywood Pirate
3. A Global Destination with 52M Visitors/Year
Orlando is a popular tourist destination, with an impressive 52 million visitors each year. Of these, an impressive two million are from overseas, making it a truly international destination. With its world-famous theme parks, vibrant nightlife, and stunning natural attractions, it's no wonder Orlando is such a popular destination for tourists from all over the world.
Also → Las Vegas: The Most Spectacular City in the World
4. Top US Hotel Destination
Orlando, Florida is the second most popular hotel destination in the United States, with more hotels than any other city except for Las Vegas, Nevada. With over 450 hotels and resorts, Orlando offers a wide variety of accommodation options for visitors, ranging from budget-friendly motels to luxurious five-star resorts. With its world-famous theme parks, vibrant nightlife, and endless shopping and dining options, it's no wonder that Orlando is a top destination for travelers from around the world.

Also → Myrtle Beach: A Popular US Resort Destination

Advertisement

5. Walt Disney's Decision to Build Walt Disney World
In 1965, Walt Disney made the strategic decision to build Walt Disney World in Orlando, Florida, due to its distance from the ocean and the reduced risk of hurricane damage compared to other cities that were being considered. This was a wise choice, as Orlando is far enough inland to avoid the destructive power of hurricanes, yet close enough to the coast to enjoy the benefits of the ocean.
Also → Glendale, California: A bustling city of over 200,000 people
6. The City of Orlando is a Popular Film Location
The city of Orlando is a popular destination for filmmakers, with many movies having been filmed and produced there over the years, including Lethal Weapon III, My Girl, and Parenthood. These films have all gone on to become classics, and have helped to put Orlando on the map as a major filming destination. With its diverse range of locations, from beaches to forests, Orlando is the perfect backdrop for any movie.
Also → Cape Coral: A Vibrant City in Southwest Florida
7. Orlando's Role in the History of Boy Bands
Orlando is known as the birthplace of some of the most iconic boy bands of all time, such as Matchbox Twenty, NSync, and the Backstreet Boys. All three of these bands got their start in the city, and have gone on to become international superstars, selling millions of albums and performing to sold-out crowds around the world. Orlando is proud to have been the launching pad for these bands, and their success is a testament to the city's vibrant music scene.

Also → Atlantic City's Largest Boardwalk is the Best in the US

Advertisement

8. The Rise and Fall of the Cattle Industry in Orlando
Prior to the opening of Walt Disney World in 1971, Orlando was home to some of the largest cattle ranches in the United States. These ranches were sprawling, with some covering up to 50,000 acres of land. The cattle industry was a major part of the local economy, with the city of Orlando itself being home to several large slaughterhouses and meatpacking plants. The cattle industry was so important to the city that the local airport was even named after a prominent cattle rancher, Orlando McCoy.
Also → Top overnight tourist destination: Manila
9. 25,000 Vacation Homes in Orlando
Orlando is a popular vacation destination, boasting an impressive 25,000 vacation homes in the area. From luxury villas to cozy cabins, there is something to suit every taste and budget. Whether you're looking for a romantic getaway or a family-friendly adventure, Orlando has it all. With its world-class theme parks, vibrant nightlife, and endless shopping opportunities, it's no wonder why so many people choose to vacation in Orlando.
Also → Virginia Beach: A Destination for All Occasions
10. Darden: US' Largest Restaurant Conglomerate
Orlando is home to Darden Restaurants, one of the largest restaurant conglomerates in the United States. This company operates some of the most popular restaurant chains in the country, including Bahama Breeze, Olive Garden, and Red Lobster. With its headquarters in Orlando, Darden Restaurants has become a major player in the restaurant industry, providing delicious meals to millions of customers each year.
More facts on