Ten fun facts about Virginia Beach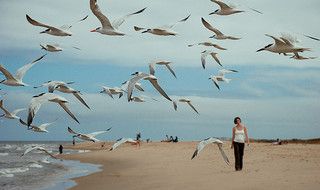 Fact 1
Virginia Beach covers almost 500 square miles and is the thirty ninth largest city in America.

Fact 2
It holds the record for the longest pleasure beach in the world in the Guinness Book of World Records.

Fact 3
Mount Trashmore is one of the largest landfills in the US. Every year, this is a site where they perform 4th of July fireworks and have carnivals.

Fact 4
Virginia Beach is closer to most cities in North Carolina then cities in Virginia because of its unique location.
Fact 5
The Chesapeake Bay Bridge-Tunnel connects Virginia Beach to the Delmarva Peninsula.
Fact 6
The East Coast Surfing Championships are held at this beach each year.
Fact 7
Virginia Beach is known mostly as being a resort city or a travel destination spot and as such it has hundreds of hotels, resorts and assortment of motels scattered across the oceanfront.
Fact 8
Numerous historical sites, like Cape Henry where the first English colonists landed in 1607, are within a short drive.
Fact 9
The Chesepians were the first inhabitants of Virginia Beach.
Fact 10
While tourism is the major economic contributor to the city the agribusiness sector as well as the military sector also help boost the economy. The city is home to quite a few US military bases including the NAS Oceana, which belongs to the US navy.
More interesting reads about...
Click here for more u.s. city facts ❯
RELATED FACTS
---
MORE IN U.S. CITIES
---