Ten fun facts about Huntington Beach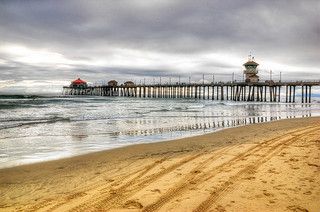 Fact 1
Huntington Beach has the only dog beach in Orange County that allows the canines to run free of their leashes while they are enjoying their time in the sun. This is a mile long stretch of sand and surf where pets and their owners can enjoy being outside together. The beach is open from 5am until 10pm.

Fact 2
Huntington Beach has a paved boardwalk they call the Ocean Strand. This beautiful walkway passes all four beaches during its twelve and one half mile stretch.

Fact 3
The United States surf team officially adopted Huntington Beach as their hometown in 2005.

Fact 4
The pier at Huntington Beach is 1,856 feet in length.

Fact 5
On the end of the Huntington Beach Pier there is a very popular diner called Ruby's Diner. This eatery gives you a 360 degree view of the ocean to enjoy while you dine.

Fact 6
Parts of the Saturn V rocket that carried the astronauts from the Apollo mission to the moon were constructed in Huntington Beach.

Fact 7
During World War II the military commandeered Huntington Beach and set up a canon at the end of the pier. This was also a place established for a lookout post for submarines.

Fact 8
The movies "Cougar Town", "Lie to Me" and "Hell's Kitchen" were all filmed in Huntington Beach.

Fact 9
The Douglas Aircraft Space Systems Center was located at this beach in the late 60s. It was the manufacturing plant of part of the rocket that took Apollo Astronauts to the moon.

Fact 10
This is a great pier for fishing enthusiasts with a variety of fish including Halibut, Herring and Croaker.



More interesting reads about...
Click here for more u.s. city facts ❯
RELATED FACTS
---
MORE IN U.S. CITIES
---