Ten fun facts about Oceanside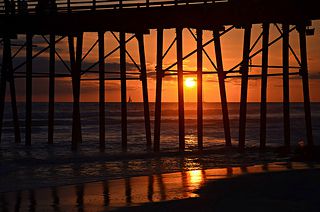 Fact 1
It is the third-largest city in San Diego County, California.

Fact 2
It was originally inhabited by Native Americans.

Fact 3
The first European explorers arrived in the area in 1769.

Fact 4
The Oceanside Pier, first built in 1888, is the longest wooden pier on the western United States coastline at 1,954 feet (596m).

Fact 5
Oceanside continues to be known for the value and appreciation as a vacation home market.

Fact 6
Oceanside has annually played host to the official start of 3000 mile bicycle race, Race Across America since 2006, usually held in the second week in June. It is considered the world's toughest sporting event by many experts.

Fact 7
Together with Carlsbad and Vista, it forms a tri-city area.

Fact 8
The historic district of Mount Ecclesia, home to the Rosicrucian Fellowship, is noted for its singular architecture and the preservation of nature grounds and gardens, offering a unique meditative walking experience.

Fact 9
Its sister cities are: Ensenada, Mexico; Kisarazu, Japan; Fuji, Japan; and A'ana, Samoa.

Fact 10
Notable natives and/or residents include actress Denise Richards, acclaimed Mexican-American writer Victor Villaseñor, and American singer-songwriter Jason Mraz.



More interesting reads about...
Click here for more u.s. city facts ❯
RELATED FACTS
---
MORE IN U.S. CITIES
---