Ten fun facts about San Diego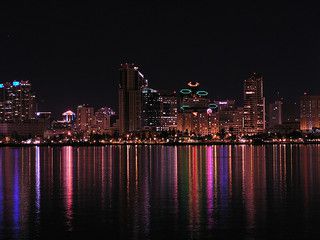 Fact 1
San Diego is the second largest city in California and the eighth largest city in the United States.

Fact 2
No hypnotism is permitted in public schools in San Diego.

Fact 3
All lakes in the city are man-made and swimming is not permitted in any of them. But since there is nothing really natural about them, most people feel that there is nothing special that they would miss anyway.

Fact 4
Hotel Del Coronado is the largest wooden structure in the city. It is situated on Coronado Island.
Fact 5
The western hemisphere's first panda to be born in 19 years was born in California. Hua Mei was born to a giant panda pair in San Diego's Zoo.
Fact 6
There are more fleas in California than any other city in the U.S.
Fact 7
May 9, 1927 was the date on which Charles Lindeberg headed for New York after flying off from here in the Spirit of St Louis. From then flew non-stop to New York.
Fact 8
The "Star of India" which was built in 1863 is the world's oldest ship and is housed here. She is still going strong despite having completed 21 circumnavigations.
Fact 9
The San Diego harbor berths in excess of 200 cruise ships every year.
Fact 10
The legal drinking age in San Diego is 21 whilst in Tijuana, which lies right across the border, you are legally permitted to drink when you turn 18.
More interesting reads about...
Click here for more u.s. city facts ❯
RELATED FACTS
---
MORE IN U.S. CITIES
---