Ten fun facts about Chesapeake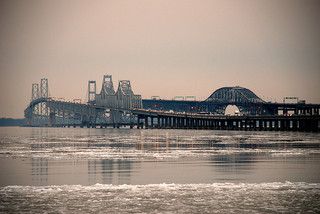 Fact 1
The largest estuary in America lies in Chesapeake Bay and stretches close to 200 miles right from the Susquehanna River upto the Atlantic Ocean.

Fact 2
The bay in Maryland has the Chesapeake Bay Bridge that stretches from Sandy Point to Kent Island. It runs a distance of 4.3 miles and is able to carry 1,500 vehicles in every lane, per hour.

Fact 3
There are over 100,000 creeks, streams or rivers in the Chesapeake watershed. This number includes 150 major rivers.

Fact 4
The Skipjack fleet in the Bay was the last commercially run fishing fleet that used sail power in North America.
Fact 5
Surprisingly, the bay is very shallow and its average depth is only close to 21 feet. This includes all its tidal tributaries.
Fact 6
The bay is home to over 350 fish species and includes the American eel and Atlantic Menhaden.
Fact 7
Annually, one million waterfowl come to winter in this Bay region.
Fact 8
The deep troughs that run along a large section of the length of the bay can be upto 174 feet deep and are considered to be the remnants of the ancient river, Susquehanna.
Fact 9
The Bay, including the tidal tributaries has close to 11,684 miles of shoreline. This exceeds the U.S west coast shoreline.
Fact 10
Chesapeake Bay is called "Tschiswapeki," or "great shellfish bay", by the Native Americans.
More interesting reads about...
Click here for more u.s. city facts ❯
RELATED FACTS
---
MORE IN U.S. CITIES
---