Ten fun facts about Azerbaijan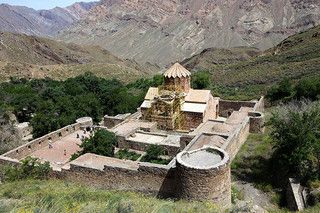 Fact 1:
Azerbaijan is a founding member of many organizations including but not limited to the Commonwealth of Independent States and GUAM.

Fact 2:
Azerbaijan is the first country with a majority of Muslim residents to perform operas and plays. They are also the first Muslim centric country to have theaters.

Fact 3:
40 percent of the country is covered by mountains.

Fact 4:
All rivers in the country drain into the Caspian Sea.

Fact 5:
There are 8,350 rivers in Azerbaijan.

Fact 6:
Due to the fact that Azerbaijan has such a unique climate (it includes 9 of the 11 climate zone classifications) there is a wide variety of biodiversity.

Fact 7:
Natural gas and oil make up roughly two thirds of Azerbaijan's economy.

Fact 8:
Nearly 60 percent of all land in Azerbaijan has been set aside for agriculture. This includes a wide variety of resources such as wood, general crops, and medicinal crops.

Fact 9:
Though there is no official religion by law nearly all residents within Azerbaijan are practicing Muslims. In fact an estimated 95 percent of the country's residents are Muslims. Though this breaks down into various sects such as Shia Muslims and Sunni Muslims.

Fact 10:
Black tea is the official beverage of Azerbaijan.


More interesting reads about...
Click here for more country facts ❯
RELATED FACTS
---
MORE IN COUNTRIES
---