Ten fun facts about Chattanooga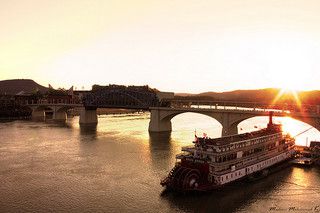 Fact 1
The city lies at the transition between the ridge-and-valley portion of the Appalachian Mountains and the Cumberland Plateau. The city is therefore surrounded by various mountains and ridges.

Fact 2
The official nickname for Chattanooga is the Scenic City, being reinforced by the city's growing national reputation as a haven for numerous outdoor activities.

Fact 3
Chattanooga is internationally known for the 1941 gold record song "Chattanooga Choo Choo", popularized by Glenn Miller and his orchestra.

Fact 4
A unique distinction for Chattanooga is the fact that the city has its own typeface, Chatype, which was launched in August 2012. This marks the first time an American city has its own typeface and also the first time a crowd-funded custom-made typeface has been used for any municipality in the world.
Fact 5
Chattanooga touts many attractions, including the Tennessee Aquarium, caverns, and new waterfront attractions along and across the Tennessee River.
Fact 6
Chattanooga hosts the well-known Riverbend Festival, an annual nine-day music festival held in June in the downtown area.
Fact 7
Since 1990, Chattanooga has been recognized as a Tree City USA community.
Fact 8
The first inhabitants of the Chattanooga area were American Indians.
Fact 9
As the birthplace of the tow truck, Chattanooga is the home of the International Towing and Recovery Hall of Fame and Museum.
Fact 10
Chattanooga hosts several writing conferences, including the Conference on Southern Literature and the Festival of Writers, both sponsored by the Arts & Education Council of Chattanooga.
More interesting reads about...
Click here for more u.s. city facts ❯
RELATED FACTS
---
MORE IN U.S. CITIES
---