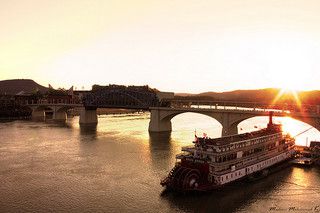 1. A City of Adventure
Nestled between the Appalachian Mountains and the Cumberland Plateau, Chattanooga is surrounded by a stunning landscape of rolling hills and majestic mountains. From Lookout Mountain to Signal Mountain, the city is encircled by ridges and valleys that provide breathtaking views and plenty of outdoor activities. Whether you're looking for a peaceful hike or a thrilling adventure, Chattanooga has something for everyone.

Also → Gainesville, Florida - Tree City, USA

Advertisement

2. The Scenic City
Chattanooga, Tennessee, is known as the Scenic City, and it's easy to see why. With its stunning natural beauty, it's no wonder that Chattanooga has become a haven for outdoor activities. From hiking and biking to kayaking and rock climbing, there's something for everyone in this vibrant city. With its stunning mountain views, lush forests, and winding rivers, Chattanooga is the perfect place to explore and enjoy the great outdoors.
Also → Tennessee Aquarium: Largest Freshwater Habitat in US
3. Chattanooga's Gold Record Song
Chattanooga is an iconic city, renowned around the world for its connection to the 1941 gold record song "Chattanooga Choo Choo", popularized by the legendary Glenn Miller and his orchestra. The song was an instant hit, reaching number one on the Billboard charts and becoming the first ever gold record. It has since become a classic, and is still widely recognized today.
Also → Dublin named 'City of Literature' by UNESCO
4. Chattanooga's Unique Typeface
Chattanooga is a city like no other - it has its very own typeface, Chatype, which was launched in August 2012. This is the first time an American city has had its own typeface, and also the first time a crowd-funded custom-made typeface has been used for any municipality in the world. Chatype is a unique and innovative way for Chattanooga to stand out from other cities, and it is a testament to the city's commitment to creativity and progress.

Also → Norfolk, a Tree City USA

Advertisement

5. A Weekend Getaway
Chattanooga is a city full of attractions, from the Tennessee Aquarium to the breathtaking caverns and the new waterfront attractions along and across the Tennessee River. Whether you're looking for a fun day out with the family or a romantic evening stroll, Chattanooga has something for everyone. With its stunning views of the river and its many activities, Chattanooga is the perfect destination for a weekend getaway.
Also → Modesto, California - A Tree City USA
6. The Riverbend Festival in Chattanooga
Every June, the city of Chattanooga comes alive with the sound of music during the Riverbend Festival. This nine-day event is held in the downtown area and features a variety of musical acts from all genres, including country, rock, blues, and jazz. The festival also includes a variety of food vendors, art displays, and activities for the whole family. With over 500,000 attendees each year, the Riverbend Festival is one of the most popular events in Chattanooga.
Also → Reno, Nevada is America's "Tree City" for 28 years
7. Chattanooga's Commitment to Urban Forestry
Since 1990, Chattanooga has been proudly recognized as a Tree City USA community, a distinction awarded by the Arbor Day Foundation to cities that demonstrate a commitment to urban forestry. This commitment includes having a tree board or department, a tree care ordinance, a comprehensive community forestry program, and an Arbor Day observance and proclamation. Chattanooga's commitment to urban forestry has resulted in a healthier, more beautiful city for its residents and visitors alike.

Also → Explore Glendale: A Picturesque City

Advertisement

8. Chattanooga's Native American Heritage
The Chattanooga area has a long and rich history, with the first inhabitants being American Indians. These Native Americans were likely members of the Cherokee, Creek, and Chickamauga tribes, who had lived in the area for centuries before the arrival of European settlers. Archaeological evidence suggests that these tribes had established villages and trading posts in the area, and that they had a complex and sophisticated culture. Today, the city of Chattanooga is home to a vibrant Native American community, and many of the city's landmarks and attractions reflect the area's long and storied history.
Also → Rockford, Illinois: The Forest City
9. Tow Truck History in Chattanooga
Chattanooga is a city with a unique claim to fame - it is the birthplace of the tow truck! As a result, the city is home to the International Towing and Recovery Hall of Fame and Museum, a place dedicated to honoring the history of the tow truck and the people who have made it what it is today. The museum features a variety of exhibits, including a tow truck timeline, a collection of antique tow trucks, and a memorial wall honoring those who have made significant contributions to the industry.
Also → Santa Rosa: The Perfect Weekend Getaway
10. Chattanooga's Literary Scene
The city of Chattanooga is a hub for writers, hosting two major writing conferences: the Conference on Southern Literature and the Festival of Writers. Both of these events are sponsored by the Arts & Education Council of Chattanooga, which works to promote the literary arts in the region. The Conference on Southern Literature is a two-day event that brings together authors, scholars, and readers to discuss the literature of the American South. The Festival of Writers is a three-day event that features workshops, readings, and panel discussions with authors from around the country. Both of these conferences provide a great opportunity for writers to network and learn from each other.
More facts on