Ten fun facts about Chandler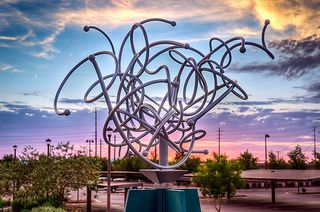 Fact 1
Rapper and actor Ice-T lives in Chandler with his wife as part-time residents.

Fact 2
It also has satellite locations for many technology companies, including Intel and Orbital Sciences Corporation.

Fact 3
Chandler is noted for its annual Ostrich Festival.

Fact 4
The Chandler Center for the Arts, a 1,500-seat regional performing arts venue, is located downtown, and the Arizona Railway Museum is at Tumbleweed Park.
Fact 5
Chandler, Arizona was named after Dr. A. J. Chandler, a veterinarian who settled in the area in 1891.
Fact 6
The town of Chandler began in 1912, with the opening of the Hotel San Marcos in 1913, Arizona's first resort.
Fact 7
The Town of Chandler incorporated in 1920, with Dr. Chandler as its first Mayor.
Fact 8
Chandler, Arizona residents are called Chandlerites.
Fact 9
Most of the north and south streets in the original town site were named after states, and most of the east and west streets were named after American cities. Several of those street names remain today, like Boston Street, California Street, and Arizona Avenue.
Fact 10
Chandler is the fourth largest city in Arizona in terms of population, with well over 300,000 residents.
More interesting reads about...
Click here for more u.s. city facts ❯
RELATED FACTS
---
MORE IN U.S. CITIES
---
Short about Chandler
is a city in Maricopa County, Arizona, United States, and is a prominent suburb of the Phoenix, Arizona, Metropolitan Statistical Area (MSA).

Languages
Deutsch
Français
Español
English