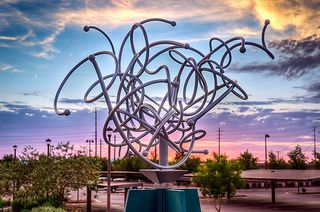 1. Ice-T and his wife make Chandler their home
Ice-T, the renowned rapper and actor, and his wife have made Chandler their part-time home. The couple have been living in the city for some time now, enjoying the warm climate and the many attractions that Chandler has to offer. From the historic downtown area to the nearby golf courses, the city has something for everyone. With its close proximity to Phoenix, Chandler is the perfect place for the couple to call home.

Also → Mesa, Arizona: A City of Diversity

Advertisement

2. Chandler, Arizona - A Hub for Technology Companies
Chandler, Arizona is a hub for technology companies, with Intel and Orbital Sciences Corporation both having satellite locations in the city. These two companies are just two of the many tech companies that have chosen Chandler as a base for their operations, making it a great place for those looking to work in the tech industry.
Also → Hayward: A bustling city located in the Bay Area
3. Chandler's Ostrich Festival
The city of Chandler, Arizona is renowned for its annual Ostrich Festival, which has been held every March since 1989. This unique event celebrates the city's ostrich-farming heritage and features a variety of activities, including ostrich races, an ostrich parade, an ostrich egg hunt, and a variety of food and entertainment. The festival also includes a carnival, a petting zoo, and a variety of vendors selling ostrich-related items. The Ostrich Festival is a beloved tradition in Chandler and draws thousands of visitors each year.
Also → Tempe, Arizona - A Destination for Outdoor Enthusiasts
4. Chandler's Vibrant Arts Scene
The vibrant city of Chandler, Arizona is home to the Chandler Center for the Arts, a 1,500-seat regional performing arts venue located in the heart of downtown. This impressive venue hosts a variety of events, from concerts and plays to dance performances and comedy shows. For those interested in the history of the area, the Arizona Railway Museum is located at Tumbleweed Park, offering a unique look into the past with its collection of vintage locomotives, railcars, and other artifacts.

Also → Gilbert, Arizona - A Perfect Place to Live

Advertisement

5. Dr. A. J. A Pioneer in Chandler, Arizona
Dr. A. J. Chandler was a veterinarian who made his mark on the world when he settled in Chandler, Arizona in 1891. His impact was so great that the city was named after him, and today Chandler is a thriving city of over 250,000 people. Dr. Chandler was a pioneer in the area, and his legacy lives on in the city he helped to create.
Also → Glendale, California: A bustling city of over 200,000 people
6. Chandler, Arizona: A History of a Resort Town
The town of Chandler, Arizona, was founded in 1912 and quickly became a popular destination for travelers. In 1913, the Hotel San Marcos opened its doors, becoming the first resort in the state. This luxurious hotel was a major draw for visitors, and it helped to establish Chandler as a premier destination for relaxation and recreation. Today, the city is still a popular tourist spot, offering a variety of attractions, including golf courses, museums, and shopping centers.
Also → Arizona: A State of Endless Adventure
7. Dr. Alexander John Founder of Chandler, Arizona
In 1920, the Town of Chandler was officially incorporated, with Dr. Alexander John Chandler as its first Mayor. Dr. Chandler was a veterinarian and a land surveyor who had moved to the area in 1891. He was instrumental in the development of the town, and his vision for the future of Chandler was realized when it became an incorporated town. Dr. Chandler served as Mayor until his death in 1923, and his legacy lives on in the town he helped to create.

Also → Cape Coral - A Vibrant City in the Heart of Southwest Florida

Advertisement

8. Chandlerites: Proud Residents of a Unique City
The city of Chandler, Arizona is home to a unique group of people known as Chandlerites. These proud residents take great pride in their city and its many attractions, from the historic downtown area to the popular Chandler Fashion Center mall. Chandlerites are also known for their strong sense of community, with many local events and activities taking place throughout the year. Whether it's the annual Ostrich Festival or the weekly farmers market, Chandlerites are always looking for ways to come together and celebrate their city.
Also → Welcome to Grand Prairie!
9. Chandler's Street Names
The town of Chandler, Arizona has a unique history when it comes to street names. Most of the north and south streets in the original town site were named after states, such as California Street, Arizona Avenue, and Massachusetts Street. Meanwhile, the east and west streets were named after American cities, including Boston Street, Denver Street, and Chicago Street. Many of these street names remain today, providing a reminder of the town's past.
Also → The City of Corona: A Unique Street Layout and a Popular Destination
10. A Bustling City of 300K+
Chandler, Arizona is a bustling city with a population of over 300,000 people, making it the fourth largest city in the state. It is a vibrant and diverse community, with a wide range of activities and attractions to explore. From its award-winning parks and trails to its thriving business district, Chandler has something for everyone. With its close proximity to Phoenix, Chandler is a great place to live, work, and play.
More facts on